Merchandise Assortment Planning: Factors, Pillars ...
Merchandise Assortment Planning: Factors, Pillars and Strategies To Consider When Creating a Product Assortment Plan In Retail in 2023
The ability to keep prepared and organized may aid a business in achieving its objectives. For example, a firm might use assortment planning to set up product categories based on current market trends and successful items. As a result, sales may be increased by being aware of the best practices in product assortment. In this blog, we define assortment planning and discuss its importance with factors and strategies to consider before creating an assortment plan for your retail business.
What is Merchandise Assortment Planning?
Offering suitable goods at the appropriate location and cost is referred to as merchandise. A shopkeeper must plan to stock the item the consumer wants in his store. Any retail business' ability to succeed hinges on its merchandise strategy. Merchandise assortment planning is organizing and managing the retail company's inventory of goods in a way that strikes a balance between target consumer expectations and business objectives.
Profit maximization, market expansion, and growth may be a company's strategies. Customers usually anticipate receiving a high-quality product that meets their needs. There is a connection between both, i.e., a company may achieve its profit or market share goals when it can stock and advertise the customer-favoured goods. This calls for merchandise assortment planning.
When To Consider Merchandise Assortment Planning in 2023?
Many eCommerce firms may not always prioritize merchandise assortment planning, especially if they make respectable profits. However, assortment planning is a crucial component of inventory management, mainly when your company deals with the conditions listed below.
Proliferation of SKUs Without Supervision and Control
While increasing the number of SKUs is crucial for growth, doing so is at the expense of your revenues. Planning your assortment will help you keep inventory proliferation under control, reduce SKUs, and concentrate your spending on the most lucrative products.
Surplus Of Outdated Inventory
You must consider merchandise assortment planning if you frequently have problems with outdated goods. This will enable you to more appropriately plan your merchandise inventory purchases and steer clear of goods with low demand or poor sales.
Periodic Stockouts
Stocking out is just as problematic as dead stock. If you frequently run out of specific items, although there is still a strong demand for them, you could organize your selection better so that you don't need to refill stock frequently to maintain sales volume. More than 63 per cent of U.S. retail stores, on average, are accurate with their inventory. While others face problems like stockouts, losing sales due to inaccurate inventory levels, poor customer experiences and even losing qualified sales. Retail business owners can get rid of these problematic situations with a great product assortment plan.
You can learn here about What is a Periodic Inventory System?
Lack Of Storage Space
You might not have enough room to keep all the goods you sell as your firm grows. To make the most of your available square footage, merchandise assortment planning enables you to organize your inventory around warehouse capacity and shelf space carefully.
Why Is Merchandise Assortment Planning In Retail Businesses Important?
Effective merchandise assortment planning may increase sales and broaden the retailer's clientele. It is crucial because this decides which products a buyer engages with and ultimately purchases. A clothing store would offer different outfits in the summer than in winter. This meets consumer demand and boosts sales. Similarly, complementary products like bottom-wear and top-wear are carefully arranged in supermarkets to entice people to make impulsive purchases.
A retailer's most considerable outlay is the cost of purchasing goods and stocking them in the shop for sale. Delivery charges, shipping costs, storing costs, etc., are just a few extra expenditures associated with purchasing goods. Therefore, your costs will easily quadruple if you order the incorrect item. Although conserving money is necessary, having a product assortment strategy is even more crucial. If you don't have well-thought-out assortment planning in retail, you'll frequently find yourself trying to meet customer requests. One of a retailer's most significant responsibilities is serving customers' wants.
If you plan everything out in advance, you can utilize the appropriate product at the right time, place, and in the proper quantities. Consider the repercussions if your planning is inadequate. There's a potential that your shelves may be crammed with the incorrect goods, in that case, you'll need to offer steep discounts to eliminate the unwelcome surplus stock. Additionally, if you don't offer the appropriate goods at the correct times, your clients will go to your competitors, and you'll lose qualified sales. The three most essential prospects where merchandise assortment planning is required are discussed below:
Serving Customers
The shop can help the consumer by effectively meeting his demands if he has proper merchandise assortment planning. Additionally, you will assist the customer without looking elsewhere, focusing more on their convenience. A well-planned retail selection will aid in drawing more and more clients with various tastes into a single store.
Retail Budgeting
Planning a retailer's selection is crucial since it aids in managing the retail budget appropriately. The business cannot purchase every item in every size, colour, and combination in the hopes that a consumer would walk in and take it. Instead, the merchant can stock the standard sizes, colours, and variety of the most popular or frequently used items while making special sizes, variations, and variants available upon request.
For instance, the merchant may maintain the standard-sized shirts worn by most men at a store that sells clothing but may also purchase and provide larger sizes upon request. This will guarantee that most customers lie in standard sizes, and those with unusual sizes are not excluded. Without going over budget and overstocking the business, this weather may establish a budget to buy the stock and keep it appropriately.
Preventing Losses
The shop may prevent the stock process with careful preparation, which costs the business money. The retailer's business understanding is essential for assortment planning in retail businesses, and the more business acumen a retailer has, the less stock will be wasted.
Factors to Consider When Creating a Product Assortment Plann
Merchandise assortment planning is something that is influenced by several elements. Thus, a store must consider these aspects before placing any stock orders. Although there may soon be new tools that can assist with retail planning, the shopkeeper still makes decisions based on his business expertise and intuition. The main variables influencing retail assortment planning are the month or season, Suppliers, Shelf Space, and Market Trends. Let us discuss these factors in detail:
Season or Time of the Year
This is possibly one of the most significant elements influencing merchandise assortment planning. Customers have varying needs depending on the month or the season. For instance, sales of deodorants and fragrances will be high during summer. Still, during the winter months, sales of skin care items such as body lotions, other dry skin creams, and over-the-counter medications will rise while those used during the summer months will decline.
Holidays, other celebration days, and festivals impact the sales of specific goods. The retailer must comprehend the environment in which he operates and arranges the selection and stock purchases appropriately. The store has to have a little insight into potential circumstances to realize sale opportunities so that the stock is ready before the customers pop into the store.
Suppliers
The retailer is undoubtedly the final link in the supply chain. The retailer receives the items from the stockist through an intermediary. While a stockist or intermediary influences not every aspect, most do. Retailers receive merchandise from suppliers, and retailers should constantly be aware of their sources. Some suppliers close by may have catered to the retailer's region, depending on where the store was located. However, each provider will have different pricing and accompanying service. The shop must carefully select a supplier to ensure that the product supply is uninterrupted and that all necessary items are available.
Consider several possibilities in the event of a provider, such as a possibility that there may be numerous suppliers but that only a small number of them would have the necessary stock and selection, and fewer of them would offer the merchant the correct service. In a different case, suppliers can be scarce, forcing the retailer to make concessions and abide by the supplier's demands. Any of these scenarios have pricing as a critical component. The shop owners choose the supplier who offers the most significant value, quick turnaround time, and accessibility to various items and product variations.
Shelf Space
The amount of shelf space that the merchant has available is another crucial element in the merchandise assortment planning process. There may be several suppliers offering a wide range of goods, and the month may be ideal for purchasing the products for sale, but if the shopkeeper does not have enough shelf space, he will always need to request further deliveries. The top stock a merchant may purchase will depend on the available space in the store. Therefore, the shopkeeper must make the most of the area to the best of his abilities and provide a variety of items in tiny numbers with various variations to service most clients adequately.
Market Trends
Considering market trends is another essential aspect of developing a brief retail while. Multiple factors influence market trends, including current celebrities, market potential, consumer spending power, and consumer preferences. A specific demographic's culture also significantly impacts the market trend. For instance, a particular brand of health food or protein supplement may be in demand; thus, the shopkeeper should ensure he has those products in stock to satisfy client demands.
A well-liked film or television programme that has impacted people for an extended period also affects market trends. For example, many recently purchased several accessories featuring Game of Thrones and its linked characters during the Game of Thrones conclusion. Also, for example, during the release of Avengers, most of the public wanted associated movie accessories. That is why culture significantly impacts market trends, which affects product assortment planning.
4 Pillars Of Product Assortment Planning
Merchandise assortment planning is supported by the four pillars of customers, employees, technology, and sustainability. Let us find out how these factors act as the pillar of product assortment planning:
Clientele and Their Requirements
The needs of the client form the basis of almost every retail operation. Additionally, the entire retail assortment planning process is driven by client requests. Therefore, it is crucial that the reader evaluates client needs and adjust the shop selection accordingly. The merchant might rely on expertise, market trends, or other elements that impact the merchandise assortment planning. Many more variables can cause change, such as client expectations. The store must improve or modify itself following market demands and client requests.
Employees
Employees make up the other half of retail firms, and consumers make up the other half. Therefore, the shop must maintain a happy workforce to give a pleasing experience to its consumers. When purchasing things in retail, customers are also served, and this is where the staff come into play. If the staff members are happy, they will ensure that consumers are delighted with their visit to the store.
Technique and Technology
The business should always guarantee a customer-friendly and easy purchasing experience. Technology integration is widespread in practically all retail stores. In almost every retail establishment, swipe machines, self-service checkout kiosks, and rapid receipt generators are widely used. Using the software is becoming a standard practice, especially in grocery stores.
Most software has also developed a data collection system that aids the retailer in identifying which customers are regulars and which customers spend more on a specific category of groceries. The business can now organise campaigns and send out promotional communications more easily as a result. This helps the retailer understand consumer purchase habits and make the best retail selection decisions.
Sustainability
To remain competitive in the industry and be the best retail outlet, sustainability is crucial. Businesses in the retail industry need to look at the big picture and focus on market trends and customer needs. It is necessary to make sure that the procedure starting with the customer noticing the variety of products in the store and then checking out a specific item is adequately created for the smooth experience of customers so that they revisit the store.
5 Types of Strategies for Merchandise Assortment Planning In Retail Businesses in 2023
Effective merchandise assortment planning strategies increase sales and broaden the retailer's clientele. They are crucial because they decide which products a buyer engages with and ultimately purchases. In addition, seasonal changes may affect the selection. Before creating the ideal product assortment strategy, it is crucial to do in-depth market research on various criteria, including the target consumer group, region, climate, and other customer-based preferences. Let us discuss the various merchandise assortment planning strategies:
Wide Assortment
When shops want to provide several distinct product lines or categories but with less depth in each area, they employ the comprehensive assortment method. Although it does not offer many goods in each product line, its goal is to increase the diversity of product lines available. A grocery store that offers a variety of products but only carries one or two brands of each kind of product is an example of one that uses the wide selection approach.
Deep Assortment
The goal of a deep merchandise assortment planning approach is to offer a lot of alternatives for a specific product category. Stores specializing in a few goods sometimes employ a deep assortment approach. For instance, a supplement store focusing on fewer product lines but with great depth and diversity within each product line is likely to provide customers looking for protein powders with a wide range of possibilities.
Mixed Assortment
To draw more customers from other marketplaces, retailers who employ scrambled assortment methods seek to sell items outside their primary business activities. For instance, a business known for its speciality in smoothies may start offering fresh fruit and packaged foods to reach a more significant demographic, including those who want to create smoothies at home.
Localized Assortment
A localized assortment approach divides the product mix according to regional factors and local population preferences. This enables the company to meet various regional demands and boost sales. For instance, a retailer of apparel like D&G does not stock the same items in Bengaluru, India, as in Alberta, Canada. This is because people in India have distinct clothing preferences and needs according to climatic circumstances, but those in Alberta need warmer gear all year round, especially in the winter.
Mass-Market Assortment
Retailers like Walmart and Amazon utilize extensive physical storage facilities to implement mass-market product assortment tactics. To serve a much larger consumer base, they try to appeal to the mass market and provide as many items and kinds as possible.
Conclusion: Make Use of InventoryLogIQ's Product Assortment Management Capabilities
An effective merchandise assortment planning method makes inventory control more efficient. Making the most of every opportunity allows successful merchandising assortment planning in the retail industry to increase earnings. Businesses must comprehensively understand their inventory counts and turnover rates to achieve this efficiently. Utilizing data automatically accessed by inventory management software helps streamline this procedure. For example, by connecting with POS systems, the programme may deliver immediate and up-to-date information on inventory levels that highlight sales trends and opportunities for the best pricing strategies.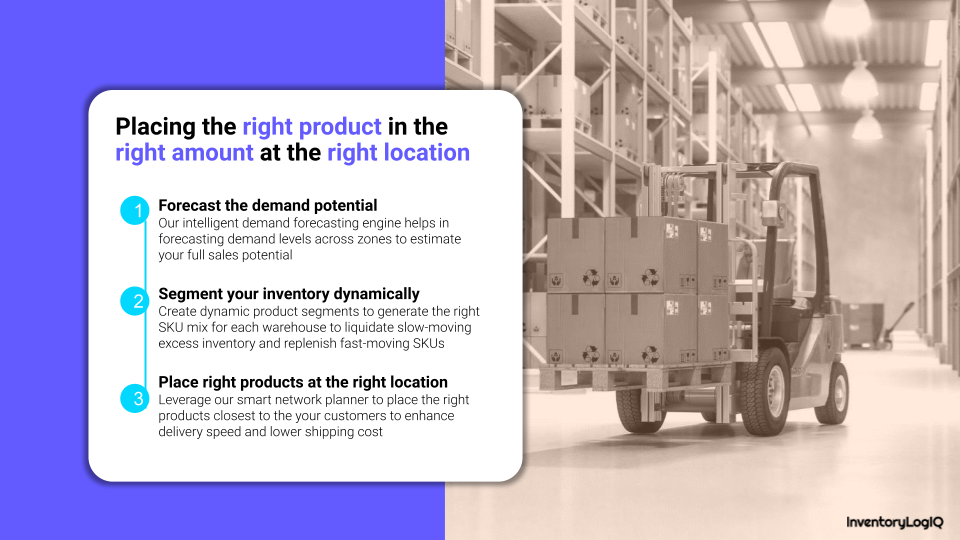 An inventory management platform like InventoryLogIQ can assist you in streamlining and optimizing your merchandise assortment planning process using sophisticated commercial software and other tools. With the help of InventoryLogIQ's analytics solution, you can track data and gain the insights you need to predict client demand and adjust your assortment. For example, you can preside over inventory turnover and sales history, examine popular order destinations, and better prepare for holidays and peak delivery periods. Additionally, each merchant's dashboard offers inventory management features to facilitate merchandise assortment planning, such as:
Automatic reminders when you reach reorder points to assist you with restocking
Real-time visibility into inventory movement down to the SKU level
Analysis of the optimal inventory allocation among your storage facilities
Tracking of inventory and SKU performance over time
Segmenting products based on a variety of factors
Suggested Read: What is Inventory Planning?
Merchandise Assortment Planning: FAQs