Inventory Transfer: A Step-by-Step Guide on How to...
Inventory Transfer: A Step-by-Step Guide on How to Transfer Inventory & 3 Factors to Consider Before Deciding on Warehouse Transfer in 2023
Inventory is frequently moved from one location to another to accommodate demand as online companies expand. The eCommerce warehousing industry experiences a lot of inventory movement due to many fulfillment centers and sales channels, mainly if you operate a multichannel inventory fulfillment operation. But if inventory transfers between storage facilities are not handled effectively, an inventory management crew will undoubtedly get overworked. Additionally, there are strategies to prevent inventory transfers for a more effective supply chain, even if they help control storage and demand. In this post, we go into what inventory transfers entail, when it makes sense to start a transfer and how to carry out a seamless transfer to prevent fulfillment delays.
What is an Inventory Transfer?
Products are moved from one warehouse location in a distribution chain to another during an inventory transfer, a warehouse logistics procedure. Inventory transfer aims to maximize your storage space so that when the workload is heavy, managing inventory will become easy and can be done quickly.
What is the Need For an Inventory Transfer in 2023?
Retailers may need to shift goods under the following circumstances:
Increase inventory availability when you offer products through various outlets and locations. Typically, retailers will keep their goods in the main warehouse. The warehouse employees will deliver goods to retailers upon receiving orders from them. Additionally, shopkeepers shift things from neighbouring stores to swiftly refill if one of the businesses runs out of something when they sell well.
Some companies help with consignment inventory, as in they will ship their products to consignment partners to complete consignment tasks. Merchants must maintain track of these transfers as warehouse transfers as these things have not yet been sold and are still company assets.
Control rotten, out-of-date, and damaged goods. Staff at the warehouse will need to shift any damaged products to a different area.
The Function of Inventory Transfer in the Fulfillment Process
The ideal situation is to have sufficient inventory at the location nearest to the client when an order is placed. This guarantees that packages are delivered on the cheapest, quickest path. An agile supply chain is made possible by having various warehouse sites and the capacity to transport inventory. As a result, you can match customers' expectations for quick, low-cost delivery while selling through multiple channels and expanding into additional global markets.
The inventory transfer might delay the eCommerce fulfillment procedure; therefore, a company shouldn't rely entirely on them. Instead, you should ensure access to real-time inventory management system information and visibility into the flow of products across your network to monitor crucial inventory KPIs and distribute inventory accordingly.
For instance, if historical order data indicates that particular products are in high demand in a specific market or sales channel, you would first ensure adequate stock is available to satisfy that demand in the appropriate area. Developing a strategic distribution plan may minimize the possibility of fulfillment delays, maximize logistical savings, and ensure that orders are efficiently completed and distributed.
How to Carry Out the Inventory Transfer Procedure in 5 Steps?
For a broader geographic reach, e-commerce companies frequently split inventory across many fulfillment facilities. You'll probably have to handle inventory movements even if you have two warehouse sites. Fortunately, it's a straightforward inventory transfer procedure requiring only five steps. They are listed below:
Step 1: Plan to Transfer Your Inventory
Understanding when an inventory transfer makes the most sense is the first step. Here are a few causes:
Low or insufficient inventory levels are present in one area.
At a specific place, an increase in demand is anticipated.
Moving inventory is required to sell on a specific channel.
A brief or long-term shutdown of a warehouse
Spend some time on inventory planning to determine the goods and amounts that must be sent out, the transfer's timeframe, and create an inventory transfer list. Put all this information into an inventory transfer request, and if necessary, get the source warehouse's inventory manager to authorize it.
Step 2: Request for an Inventory Transfer
The destination warehouse's inventory manager must receive a formal transfer request after the transfer proposal has been accepted. You will probably be in charge of choosing what goods are kept where if you rent a warehouse. But if you're in charge of several warehouses, you work with a 3PL. So to make sure you have all the required documentation and information, check with the 3PL first.
They will already have a transfer request process for you to follow. Make sure there is sufficient storage at the other site to accommodate your request regardless of what. Details for a successful inventory transfer may include the following, depending on the type of transfer:
Source data from a warehouse
The intended storage facility
Names of items and SKUs
Measurement unit
Quantities that must be transmitted
Request number for stock transfer
Step 3: Carry Out the Transfer
The warehouse staff will determine if the products are available once the transfer request is approved. The objects are then selected, and an inventory scanner is used to read the serial numbers on each one. The inventory units have already been removed from the transmitting warehouse's stock. The order is then prepared for delivery and sent to the recipient via internal transportation, a shipping company, or a freight shipping partner. Order tracking is also enabled to guarantee that the items in transit arrive at their destination on time.
Step 4: Product Receiving and Storage
The workers at the destination fulfillment center must verify that the delivered items match the information on the delivery slip during warehouse reception. This is standard for any warehouse receiving procedure, whether it's inventory received from a supplier or an internal inventory transfer. The transfer is finished when every item has been scanned, a receipt is generated, and the goods are securely stored away.
Following an inventory storage system that meets your company's demands, the warehouse staff will store the physical goods in bins, shelves, and racks. You should be able to observe when inventory is stored and prepared for fulfillment if your inventory and warehouse management systems are linked.
Step 5: Double Check the Received Inventory
Tracking the movement and utilizing inventory management software to automate this procedure is the best approach to determine whether the inventory transfer was effective. Inventory visibility is essential for carrying out a successful inventory transfer. Get confirmation of the following, and make sure to:
Are items received at the appropriate warehouse location?
Was the amount deposited correctly?
Was any SKU damaged when it was received?
You can check more about inventory carrying costs here.
Types of Inventory Transfer
We might categorize the different kinds of stock transfers used in the market in two ways. The first one depends on the distances from which the procedure is performed. The execution of the process is the second way. Let's quickly comprehend these before moving on:
Transfer Between Companies
Here, the inventory transfer involves involvement from two separate businesses. This necessitates the participation of several corporate divisions, including sales, procurement, logistics, and liaison. The difficulty is additionally increased because both firms utilize unique identifying codes.
Within Company Movement
The same company's inventory is transferred between its two sites. The activities are straightforward because just one entity is involved. To ensure efficiency, though, documentation is as essential. Both are possible through various combinations and permutations of the respective factories and warehouses of the two companies. As we go on to the more significant classification, let's find out how they are carried out in the established method.
One-Step Method
Here, both the problem and the receipt are created in one motion. Then, through a single STO, the chosen item is distributed to the targeted destination (Storck Transfer Order.) This technique is typically applied to internal transactions inside the same business. As a result, the firm's inventory holdings are still valued at the same amount. At each site, just the amount changes. This is not advised, even if used inside the same company, and if used, the sites should be relatively close to one another.
Two-Step Method
The ability to measure efficiency and apply it between two entities makes this a superior method of managing operations. Both ends issue the STO document. The item will be removed from the first warehouse or facility and marked as "in transit." The STO document designates the transaction as "finished" once the product arrives at the destination. After the transfer, the value and quantity at both sites are altered. This assists inventory management and tracking the stock movement's effectiveness.
Factors To Consider Before You Get Started With Inventory Transfer in 2023
The procedure's effectiveness when it comes to maintaining and moving your inventory is influenced by several elements. How efficiently the warehouse staff can handle the merchandise inventory, may be impacted by the placement of the products on the shelves, the design of the warehouse, and the order of the barcodes on the boxes. Follow the best procedures listed below before you begin a stock transfer:
Control Both Maximum and Minimum Amounts
You may avoid under or overstocking at any site by accurately tracking maximum and minimum numbers. Set minimum and maximum stock levels for each item and alerts to notify you when supplies are running low. Consider applying the 80/20 inventory rule, which says that 20% of your stock accounts for 80% of your sales. Prioritizing inventory management for those things will enable you to determine which products make up that 20 per cent. Additionally, you should be aware of the whole sales lifecycles of these products, including how many of them you sell each week or month. Finally, it would be best if you kept a careful eye on these items since they provide you with the most earnings.
If some of your best-selling products are only popular during certain times of the year, it might be challenging to keep track of them. By investing in an inventory management system, you can track your stock levels across many locations and quickly compare them over time. In addition, by using warehouse management software, you may better organize your stock movements and prevent under- or overstocking.
Effectively Communicate Between the Warehouses
In inventory transfers, miscommunication is a frequent cause of problems. You can watch what inventory is being transferred when the products arrive at various locations and whether any stock was damaged or lost in transportation, thanks to effective communication between warehouses.
Automation and cloud-based technologies may enhance internal communications in your business. For example, inventory management requires automation to decrease human mistakes and computation oversights. To ensure scalability and reliable communication, cloud-based software syncs between your sites. With the help of this, you may rapidly obtain a detailed understanding of the goods you transported, their quantity and timing, and their current location.
Organize Purchase Orders
Strong management abilities and the capacity to successfully manage various purchase orders are crucial, whether you run a small, emerging firm or a large, established one. There can be different procedures at every store location if your company has more than one.
\You might not have a complete picture of your inventory levels since various sites may have different procedures for filing purchase orders and moving goods. This lack of insight might result from overspending or losing out on bulk discounts. For each site, making a bulk purchase may save overhead costs, enhance inventory management, and result in better pricing from the supplier.
Conclusion: How InventoryLogIQ Helps You in Efficiently Managing Inventory Transfer in 2023
Effective inventory transfer can have several benefits for a business, including improved efficiency and cost-effectiveness, enhanced customer service, and better inventory management. It is important for businesses to carefully consider their inventory transfer processes in order to optimize their operations and maximize the value of their inventory. Managing inventory across many locations and sales channels might take a lot of time and effort.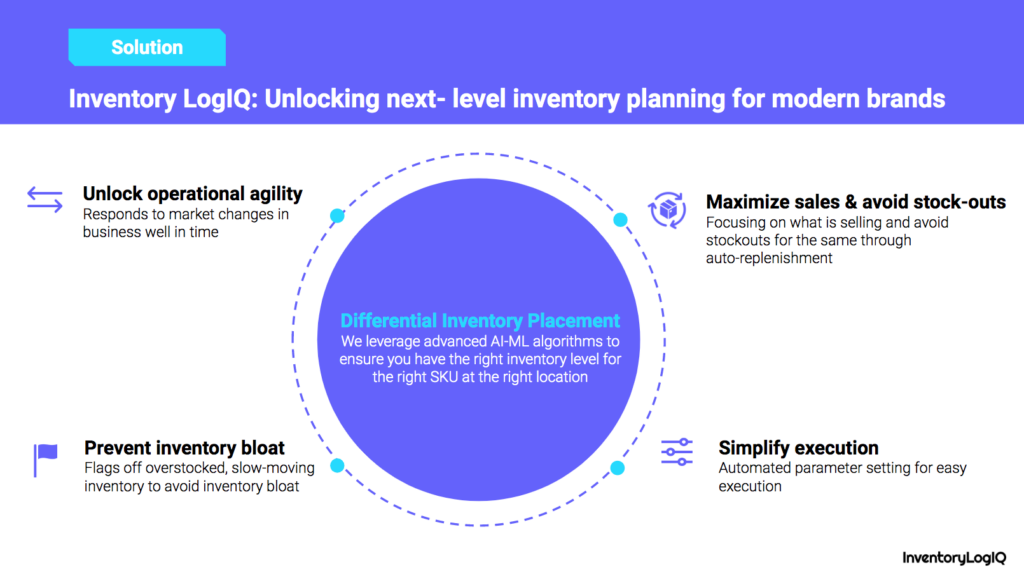 By giving you complete visibility into inventory levels throughout your supply chain, InventoryLogIQ makes the process simple. In addition, real-time inventory tracking is available on InventoryLogIQ's platform at every level, allowing you to track what is coming in, what is already on hand and what is now being moved. InventoryLogIQ can improve your business in the following ways:
Reduces the cost of keeping inventory by 40%
Raises product availability to at least 99%
Delivers more quickly for more than 70% of the demand
Suggested Read: What is Inventory Position?
Inventory Transfer: FAQs