What is Inventory Management Software? 10 Best Inv...
What is Inventory Management Software? 10 Best Inventory Management Softwares to Streamline eCommerce Fulfillment in 2022
Research that has been conducted recently suggests that India will have more eCommerce users by 2025 than the total population of the United States. The Indian eCommerce market is predicted to develop at a 23% compound annual growth rate (CAGR), reaching half a billion dollars by the end of this decade. Bernstein, a private wealth management firm, reports that India's internet buyers will number 330 million by 2025.
For thriving small and medium eCommerce businesses, the challenge is being unable to fulfill orders because of inventory level miscalculations and mismanagement. For SMBs, keeping track of multiple different processes can get difficult, if they use outdated technology such as maintaining spreadsheets. Tying data about inventory levels into all of the other data that a business measures requires a dedicated software solution called inventory management software. Inventory software has become a very important tool to stay relevant in the game.
This highly efficient software has started a revolution in the eCommerce marketplace. Inventory management software helps sellers to track the exact location of inventory and measure the levels of available products in real-time. Deciding on the right inventory management apps for your business can be difficult as sellers need to strike a balance between the required features and the most cost-effective pricing.
What is Inventory Management Software?
Inventory management is the term used for ensuring the adequate amount of stock levels that need to be maintained to avoid product shortages in a business. Businesses need to manage their inventory around the clock according to their demand and sales. In the context of online selling, businesses need to have an easy and effective inventory management tool for facilitating and streamlining their day-to-day inventory processes.
Inventory management software encompasses much more than just monitoring inventory levels. It helps organizations streamline inventory management and organize order fulfillment operations effectively. Inventory management apps help businesses optimize their inventory and improve supply chain efficiency. Advanced features of inventory software provide real-time inventory tracking, control, and auditing functions.
A good inventory management software system includes the following:
It is a count of the total quantity of a specific product that is in stock at multiple locations. When a seller checks for the item in their inventory management software, it will prominently display details such as the quantity, the duration from when it has been in storage, expiry date, etc. This also helps to keep a check on the inventory and avoid situations of dead stock lying in the warehouse.
This is an authorized record of the sale or purchase of items from a specific merchant/manufacturer or from customers. Within inventory management software, a seller can place sales orders and/or purchase orders and prevent overstocking or understocking of goods.
Inventory management software helps a seller to instantly and uniquely identify each item. Within the software's dynamic inventory feature, a seller can identify products using barcodes, names, SKUs, or custom fields as per business requirements.
Who Uses Inventory Management Software?
Offline Retailers
In order to categorize products, offline retailers import item barcodes and manage item pricing points across their inventory. For this, retailers employ inventory control software. Managing product levels give retailers insight into which products are in great demand. These analytics alert shops to autofill orders on high-demand items, ensuring that the product is always available. In addition, if a product is overstocked in another retail location, the software can advise stock transfers so that each location's inventory is more evenly distributed ( distributed inventory). Read our blog on inventory vs stock to under a few differences & also how to manage both efficiently.
Wholesalers
Inventory software is used by wholesalers who use online distribution channels to handle bulk inventory, manage suppliers and customers, and automate fulfillment processes. Kitting, sales order and warehouse fulfillment, lot tracking for perishable products, and bin management are all aspects that wholesalers commonly employ.
Manufacturers
In the manufacturing industry, inventory control is a crucial element for day-to-day operations. When a customer purchases a large quantity of a product, the makers must determine if they have sufficient raw materials on hand to fulfill the order. These orders are made up of a range of components that the manufacturer must combine to make a single finished product. To execute an order, the manufacturer may need to buy more stock from several other sources.
Earlier, manufacturers would use spreadsheets to keep track of inventory, which was a crude approach that was also prone to error. However, with specialized inventory management software, each item has a barcode that is linked to the software. The manufacturer can thus correctly analyze if they have adequate material on hand, track orders from suppliers, and complete orders more quickly.
eCommerce Sellers
Businesses that sell products on online marketplaces need to keep track of their inventory. Returns are handled by inventory software, which also automates restocking, shipping, and virtual stock inventory for eCommerce sellers.
How do Inventory Management Systems Work?
Inventory Management Systems work by organizing all of the store's goods in one virtual location and providing relevant information to customers and managers. Products are at the center of any inventory management system. Size, cost, pricing, number of units, and other characteristics accurately describe products. Product owners, buyers, and even vendors use these traits to make informed decisions. Some attributes, such as IDs and names, are static and aid in communicating the product's identity.
Inventory management is concerned with determining stock levels and the location in warehouses. Inventory management apps track the flow of products from suppliers to customers through the manufacturing and order fulfillment process. Inventory management at the warehouse keeps track of stock receipts, picking, packing, and shipment.
For growing businesses, other variables such as cost, price, and quantity are dynamic and constantly evolve. Inventory management is a way of efficiently arranging all of this product data in order to accurately depict it.
Features That an Inventory Management Software Must Have
Real-Time Inventory Tracking
To cut expenses and avoid fraud, inventory tracking should be in place to check available items in stock and where they are stored across warehouses, in real-time. The most significant feature of inventory management software is that it allows for proper inventory control through inventory tracking.
The inventory management software should provide sellers with extensive real-time visibility into essential supply chain management components. This will assist them in avoiding stockouts, placing automatic reorders, and receiving automatic stock updates when sales occur.
Barcoding Software Integration
The barcode technique is the most prevalent method of inventory tabulation. Businesses can use barcode technology to enhance accuracy and speed while lowering costs by integrating barcode software into their inventory management apps and acquiring widely available barcode scanners.
A barcode scanner is a device that reads printed barcodes and converts them into alphanumeric characters. The scanner sends the information to a computer database, where it is saved, using barcoding software. Each number corresponds to a distinct item in the inventory and scanning the bars provides access to a wealth of information about SKUs such as price, stock on hand, and description.
Integrating barcode scanning software into inventory management can be extremely beneficial. This streamlines the inventory tracking, stock-taking, and stock-organization processes, making them considerably more efficient. Businesses can arrange inventory or asset identifiers automatically to make tracking easier. It reassures sellers that they have the most up-to-date information at their fingertips and aids in the better management of out-of-stock SKUs and revenue optimization.
Control Over Purchasing and Order Fulfillment
The accuracy with which inventory levels are managed is influenced directly by the purchasing decision method of a company. When a purchase order is made, inventory management software guarantees that the inventory is automatically updated. With all of the relevant supplier information at one's fingertips, the software can figure out when to give purchase orders.
When items are low on stock, the inventory management software can generate purchase orders automatically, receive partial orders, and track backorders. From start to completion, it keeps track of all purchase orders and notifies sellers about each purchase order sent.
Users can also calculate shipping costs automatically using shipping zones or cargo weights, connect shipping services with eCommerce stores to display shipping charges and automate the entire workflow from order creation through fulfillment, order tracking, and order return, for all selling platforms.
Integrated CRM Softwares
A CRM helps save customer data securely in a customized manner so that a seller has access to their preference details and purchase history to predict future behavior. It is further observed that data has enough potential to change an inquiry into a sale.
CRM tools also help in storing order history, personalized marketing, offers for an individual buyer, customizing taxes and default address setting, and building a price card for individuals taking care of each pricing strategy.
Inventory Reports
Inventory management metrics provide a detailed report of how the inventory has performed over time. These metrics are:
Inventory Control: Knowing how much inventory a seller has in their warehouse at any given time is vital information for any organization to fulfill orders swiftly.
Inventory Management: To manage inventory, there are a lot of factors to take care of. A seller can use multiple accounting methods to evaluate inventory such as First-Out (FIFO), Last-In, First-Out (LIFO), or First-Expired, First-Out (FEFO).
Inventory Forecasting: The difference between actual demand and what is expected at the business level is reflected in the accuracy of demand or inventory forecasting. This is derived from inventory management software through data customization.
Fulfillment Quality Index: This will determine whether suppliers are functioning at their highest capacity or whether there is potential for improvement. Scale the return rate and the "on-time products, received" report.
Inventory Performance Report: To obtain a general picture of how the business is performing, keep track of how much profit products are bringing in to guarantee that it is operating at maximum efficiency.
Benefits of Using an Inventory Management Software
Making Informed Decisions
For eCommerce businesses, generating a profit depends on having enough in-hand inventory. It allows users to make informed decisions based on real-time data from the software, through a wide range of built-in inventory tracking facilities. Inventory software provides tools for sellers to forecast future sales accurately by giving sellers an insight into sales performances from the past.
Every aspect of a business's ability to make a profit is contingent on having enough inventory on hand. The inventory management system provides users with a variety of built-in reports that enable them to make informed decisions based on real-time data from the software. By providing a seller with a snapshot of past sales success, the software will give a seller the tools to properly estimate future sales.
Increasing Efficiency and Productivity
The inventory management system assists in increasing efficiency and production by lowering the amount of time spent on mundane and difficult processes. Inventory management systems offer a user-friendly interface that allows users to quickly report, search and input data, as well as manage inventory.
Improving Accuracy of Sales and Purchase Orders
The inventory management system allows users to store available stock at multiple locations to meet customer demand. A sophisticated inventory system can improve the accuracy of sales and purchase orders. Users can reserve available products across various locations with an inventory management system, ensuring that client expectations are met.
Tracking Inventory Across Multiple Locations
As companies thrive and expand into multiple branches, sellers should be able to keep track of inventory levels at each branch. Inventory management systems have powerful tracking models that allow users to monitor inventory levels across multiple locations.
Avoiding Out-of-Stock Situations
Retailers can avoid stock shortages by using low stock alerts to notify the seller when products are below the running-out threshold. Users will also have access to the low stock report, which gives sellers a breakdown of all items that need replenishing and can be broken down by location.
Reducing Risk by Properly Managing Product Recalls
Inventory management software gives the facility of being able to track the precise location of products by serial numbers, batch numbers, and lot numbers, in real-time. The feature becomes helpful if a seller needs to facilitate a single item recall for a batch of items.
Automating Inventory Tasks
The days are gone when businesses maintained inventory in books or spreadsheets. Such conventional methods are time-consuming and result in multiple glitches and errors. Inventory management software automates the management of inventory using advanced tools. Businesses can now integrate the software with their books of accounts and sales can be automatically integrated with warehouse records. Companies can now easily know when they have to buy or sell and the exact number of items that are available in stock.
Factors to Consider When Choosing Inventory Management Software for Operations
Integrability With Accounting Applications
Accounting software integration powers inventory management software and inventory audit management, which are critical activities. Always seek software that has inbuilt integration capabilities with accounting which will result in easy and smooth functioning.
Features and Pricing of the Application
Depending on product support, data storage, implementation, training, additional features, degradation, and other factors, different vendors charge different prices for specific inventory management software. Always keep an eye out for the pricing that comes with the benefits. Before a seller buys inventory software, they should figure out how much it will cost them.
Cloud-Based Storage Features
The majority of advanced inventory management software has cloud-based features. This may not be necessary if sellers are purchasing inventory management software for smaller firms. Cloud-based software, on the other hand, might be beneficial for medium and large-scale businesses. Users can view inventory details regardless of location, so sales figures and inventory updates will not be limited to a single location.
10 Best Inventory Management Softwares for eCommerce sellers in 2022
InventoryLogIQ

Inventory LogIQ – Lean Inventory Management for eCommerce Business
Inventory LogIQ is an advanced inventory planning, optimization, and management tool for small & medium and enterprise eCommerce businesses. It enables businesses to leverage hard data and rich insights to streamline the inventory planning operations like never before.
With Inventory LogIQ, business owners can unlock incredible revenue-enhancing benefits such as:
Decrease inventory holding costs by 40%
Increase product availability to 99%+
Cover more than 70% of the regional demand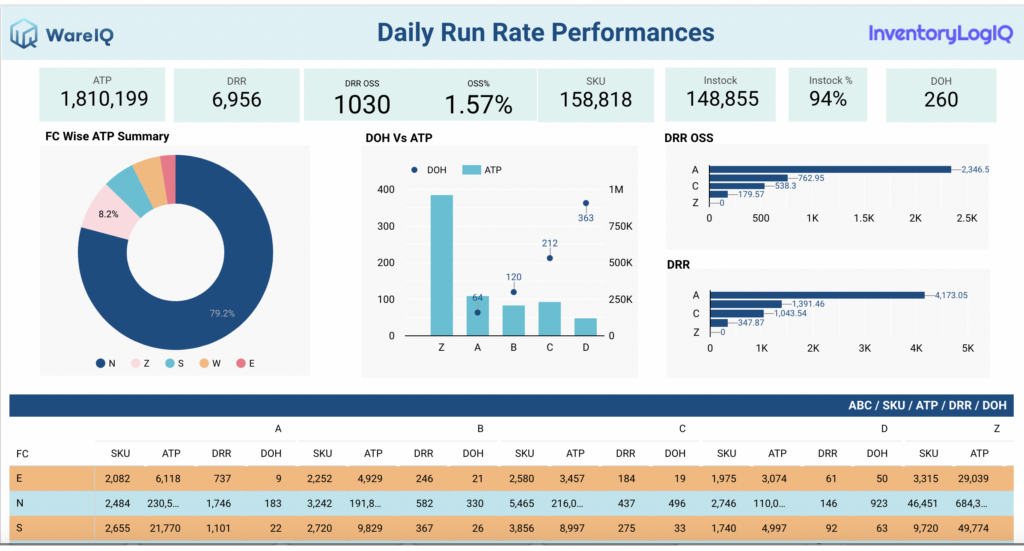 InventoryLogIQ's inventory planner is an ML-based prediction engine that leads to smart inventory placement. It helps online brands in the following ways:
Manage Replenishment for Multiple Warehouses
Combine your sales from Amazon & other websites in a consolidated inventory planner and reorder products based on the overall performance
Powerful reports show you what's happening in your business so you can put your time and money in the right places
Automate Replenishment Recommendations
Save time by automating your reordering process. Compute the sales forecast for thousands of products in minutes
Create Purchase Orders in One Click
Save time on purchasing. Send POs directly to your suppliers from the inventory planner. Keep track of outstanding orders, expected arrival dates, and received inventory
Zoho Inventory
Zoho Inventory is an inventory management software that helps businesses optimize their operations by allowing them to manage inventory and purchase orders and shipments more effectively. When a sale, purchase, invoice or bill is generated, the GST-ready inventory management software remembers the business GSTIN and populates it automatically. Zoho Inventory is an AI-powered feature-rich inventory management system with item-kitting capabilities.
Additionally, a few features are listed below:
Zoho Inventory aids with easy sales management on digital marketplaces like Amazon, Shopify, eBay, and Etsy.
With this integrated order management system, the sales force can now properly manage both offline and online orders.
Zoho Inventory's end-to-end tracking features allow sellers to follow each item's travel from the warehouse to the salespoint.
Zoho Inventory provides its customers with real-time shipping rates and in-transit information.
New clients can get a free demo of the business inventory software, which will help them evaluate the most important features.
Makes invoices and allows teams to operate their firm properly.
Monthly and annual subscriptions are available for Zoho Inventory. Clients can sign up for a free trial plan to test out the features before purchasing.
NetSuite
Using inventory and order management software like NetSuite, a seller can manage and improve their worldwide supply chain. App creators have given this program as a virtual present to firms who have tried to locate the best product management and order management software. NetSuite's capabilities extend beyond supply chain management to include product data management, inventory planning, and scheduling, work order management, manufacturing execution systems, product distribution, product supply planning and execution, warehouse management, and inbound-outbound logistics.
Some features of the software have been listed below:
Comes with a number of unique tools and capabilities that aid in inventory tracking across many locations, maintaining safety stock, reorder points, demand planning, and product distribution planning.
It creates product catalogs based on categories, quantities, and types, automatically.
Eliminates stock counting errors, promotes item counts, and standardizes inventory accuracy.
Backed by highly professional customer support that guides sellers for each feature and helps in proper integration.
ShipMonk
ShipMonk is a software package that combines order and inventory management and warehouse administration into a single, easy-to-understand interface. It was created with the idea of expansion in mind, so small and medium-sized eCommerce businesses can actually take their brand to the next level with trustworthy and user-friendly technology. Additionally, it has the following features.
ShipMonk provides eCommerce business owners with next-level support for crowdfunding campaigns and subscription boxes, allowing merchants to seamlessly grow into new business initiatives without missing a beat.
With only a few simple clicks, merchants can submit SKUs, monitor inventory levels, do inventory tracking, calculate shipping rates, export vital data, and much more.
Merchants are immediately greeted with a complete dashboard of their current activities upon signing into their accounts, with nearly everything they might need right at their fingertips.
With over 60 connections with online marketplaces, shopping carts, and solution providers, every eCommerce business owner can almost certainly sync their online POS systems with ShipMonk.
ShipMonk can handle the operations of clients who sell on Amazon, Shopify, eBay, Etsy, Target, Walmart, etc.
Zenventory
Zenventory is one of the top corporate inventory management programs available, offering a time-saving, efficient, and cost-effective cloud-based solution for managing orders and stocks. Zenventory allows sellers to choose warehouse locations based on their business needs, avoid the needless bulk of pick process errors and remain on top of stock levels via stock level alerts. Some additional features are listed below:
Comes with extensive tools to maintain inventory and manage orders on multichannel portals
The platform is tailored for small enterprises looking to make an impact on the global market through a progressive workflow.
The program provides unlimited user access and multiple warehouses at no extra charge.
The software is compatible with any desktop, is mobile-friendly, and requires no ongoing maintenance.
Product management, vendor management, cycle counting, innovative par level, kitting, multi-warehouse readiness, and low-stock alerts are just a few of the dynamic capabilities included in this cloud-based platform.
It allows users to track product movement by connecting any device, tablet, or mobile app.
It makes it easier to track down goods in multiple places and increases picking efficiency.
This multi-channel ready software is very flexible and aids in the proper integration with other platforms.
It comes with comprehensive support and a free trial period.
SkuVault
SkuVault's eCommerce Inventory Management Software makes managing sellers' online stores a breeze. It includes simple workflows in a platform that anyone on the seller's team can utilize, regardless of their technical knowledge. The solution is designed to streamline sellers' order fulfillment procedures, from inventory management to warehouse organization.
Here is the list of features that they provide:
Efficient pick-to-ship cycle, ensuring that orders are completed on time.
The ability to integrate with multiple sales channels streamlines business operations even further.
It prevents shipping problems and wrong shipments, as well as the normal errors produced by manual entries, thanks to the automation provided.
Its buffer inventory also assists sellers in maintaining the desired quantity levels. 
Included smart analytics and reporting capabilities allows sellers to establish precise inventory estimates in order to maximize sales. 
Increases the quality of a company's decisions with its data-driven insights.
Integrates effectively with other corporate systems, such as ERP, accounting and CRM, for a truly seamless experience.
eChannelHub
eChannelHub strives to alleviate the agony of multi-channel sales by allowing sellers to concentrate on the seller's main business rather than worrying about stock management, product data updates, order fulfillment, and other related duties.
It is a multi-channel eCommerce platform fully linked with all major channels, allowing retailers to spend less time updating, upgrading, and formatting product data, allowing them to focus more on selling.
Supported by a professional, young workforce, to assist everyone planning to take advantage of the inventory management software.
Uses a single, centralized interface for multi-channel eCommerce platforms.
Simplifies and manages the online listing and syncing of products, inventory, orders, processing, and shipping across all marketplaces, shopping carts, shipping solutions, and ERPs.
Covers everything for a seller, from marketplace listing tools to real-time inventory sync tools, order management systems, etc.
TradeGecko
TradeGecko is one of the top inventory management software solutions because of its simple user interface and remarkable functionality. This versatile inventory management software is designed to help high-growth eCommerce and multichannel businesses succeed. TradeGecko is a cloud-based inventory management software system that mainly:
Caters to small and medium-sized businesses with limited resources but a desire to succeed.
Strives to help sellers work smarter, expand faster, and improve sales.
Provides best-in-class inventory management software that optimizes and ensures the efficient functioning of the seller's organization.
Keeps track of stock levels and maintains inventory across several warehouses by automatically updating inventory.
Allows the moving of inventory between warehouses, manages several currencies, receives and fulfills orders, synchronizes orders with inventory, and generates sales reports.
Serves as a single point for inventory management and maintaining a balance between B2B and B2C marketplaces.
Generates sales orders, creates sales emails, sets shipping rates, and does various other things to make the business run more efficiently.
Deskera Books
For managing inventory and auto-bookkeeping, Deskera Books is all a seller needs. Deskera Books is cloud-based, user-friendly inventory management and accounting software that automates inventory management. Unlike other inventory management software on the market, this one:
Combines inventory management and inventory accounting, so the COGS are updated in real-time once sellers have fulfilled orders.
Provides built-in compliance that allows sellers to safely and easily prepare accounting and tax reports.
Covers a business whether it's a small dropshipping business or a large wholesaler with many warehouses in operation.
Immediately updates stock levels and stock valuation when it receives stock or fulfills orders from vendors and customers.
Offer services such as pick, pack & ship, drop ship, backorder, warehouse management, stock transfer, stock adjustment, and inventory reports are among the advanced inventory functions available.
Allows a seller to keep track of their business and access real-time inventory from anywhere with the Deskera Mobile App.
Finale Inventory
Finale Inventory is a multichannel inventory management software that is cloud-based for developing organizations. Finale Inventory is used by the majority of the world's smaller and medium-sized firms because of its essential features. The program was created with the goal of meeting inventory requirements while also emphasizing the necessity of centralization, multipurpose integration, and warehouse management. Some of the additional services it provides are listed below:
Avoids costly stock-outs by calculating reordering points based on product sales velocity.
Helps you make better purchasing decisions and handles restock forecasting using comprehensive order management features.
Has a comprehensive out-of-the-box barcode inventory control solution.
Uses multi-operational mobile barcode scanners, which aim to boost warehouse capacity.
It expressly coordinates between warehouses and online sales channels, as well as assists with stock updates on a regular basis.
It includes a robust reporting engine that generates configurable reports to aid in the making of swift business decisions.
Conclusion: Implementing InventoryLogIQ's Inventory Management Software for Enhancing Fulfillment Capabilities.
We at InventoryLogIQ have created a cutting-edge inventory management software solution that will assist you in streamlining your processes and increasing the efficiency of your everyday operations. We provide sophisticated, user-friendly inventory management software that is tailored to small and medium-sized businesses. Our inventory management solution is cost-effective and tackles a variety of challenges that previously required expensive enterprise-level solutions. Our inventory management software offers a 360-degree analytics engine to online brands for business growth.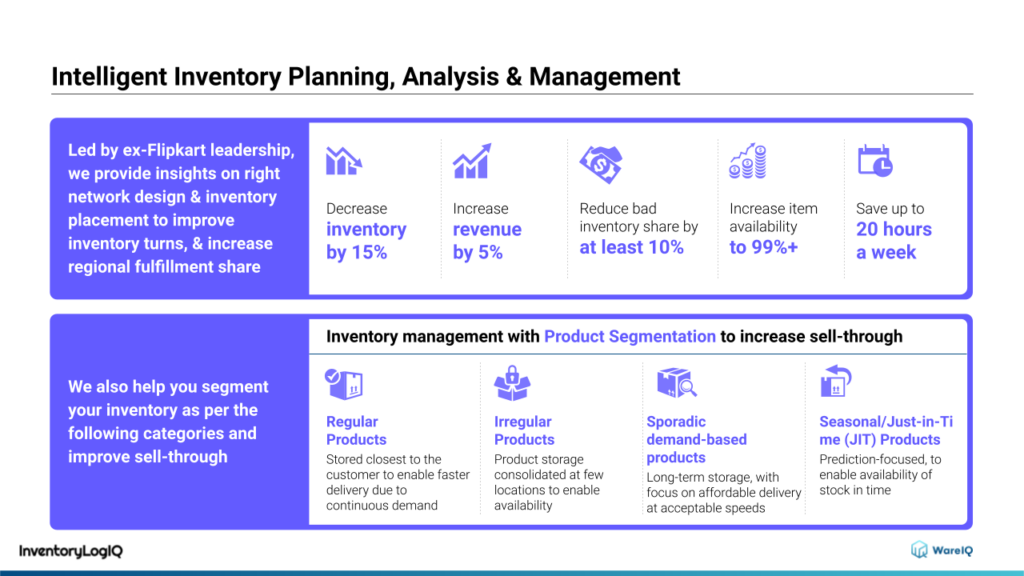 Through InventoryLogIQ's inventory planner and WareIQ's integrated fulfillment platform, eCommerce & D2C companies benefit in the following ways:
Monitoring Business Health
Closely track gross orders, revenue & inventory amount, and growth to assess business success and health.
Get visibility of your inventory in historical, zone-wise, and channel-wise segments and access NDR data easily.
Ensure Business Continuity
Analyze orders across categories such as unprocessed, ready-to-ship, RTO, etc. to take quick and appropriate action.
Inventory Management Software – FAQs
Suggested Read: Are you looking to know about Shopify inventory management?