What is Physical Stock? Meaning, Types, Steps ...
What is Physical Stock? Meaning, Types, Steps & Best Practices of Physical Inventory Counting Methods in 2023
The highest growth rate the sector has had since 2011 was $5.15 trillion in retail spending in physical locations in 2021. Retailers are retaining more inventory than ever before to meet demand. It's understandable why the number of warehouses in the US has been steadily rising since 2013. Despite the exponential rise in warehouse storage and inventory levels, evidence indicates that merchants aren't doing a great job controlling their goods. Only 8% of smaller companies keep track of their inventory. Pen and paper are used manually by another 14% of people.
This article will explain the advantages of maintaining a physical inventory count for your retail shop as well as how to go about doing it. The tangible goods that retail establishments, manufacturing facilities, and warehouses stock are essential. Companies should do physical inventory counts of their products to maintain appropriate and correct inventory levels. Physical inventory counts can monitor stock levels, confirm current numbers, and spot internal problems or theft. In this article, we define physical stock, list various inventory counting techniques, and outline the procedures for doing accurate inventory counts.
What is a Physical Inventory Count?
Physical inventory counts are a method used in inventory management to track every physical item a company has. Cycle counting often referred to as periodic counting or yearly counting, are two ways to do physical inventory counts. A corporation can find out if there is any loss or shrinkage that they can account for in their financial records by performing a physical inventory. Physical inventory counts take place in a variety of companies, although they are most frequent at manufacturing plants, distribution centres, and retail outlets.
Suggested Read: What is a Periodic Inventory System?
4 Major Purposes of Conducting Physical Inventory Count
The physical inventory count serves a variety of functions, which includes:
Ensuring Accurate Stock Levels
Physical inventory levels frequently differ from what digital records indicate. For instance, inventory levels might change in a production setting if a worker takes a replacement item but fails to register it. Employees may unintentionally enter inaccurate inventory into the system when working in retail. Additionally, there have been incidents of stealing, theft, damage, or incorrectly recorded returns, giveaways, or ruined goods. The physical inventory levels go out of sync with the records when this occurs. The resolution of a physical count can explain these differences.
Keeping Track of Theft, Damaged Goods or Internal Problems
A corporation can monitor for internal and external theft, damaged items, or internal problems by doing physical inventory counts. Theft, often known as shrinkage in the context of inventory, may make it difficult for firms to stay profitable. Employees must also take proper care of damaged inventory by reporting the damage to a manager or supervisor so that inventory levels may be adjusted and the product can be returned to the manufacturer for a warranty replacement or credit. The need for staff training on inventory protocol, shipping and receiving policies, or manufacturing best practices is just one internal issue that inventory counts might highlight.
Reporting Wages and Income
Accurate revenue statements and other financial papers may be produced by businesses with the use of adequate inventory levels for reporting. For instance, making actual earnings and precise balance sheet statements depend on maintaining an accurate inventory. The board of directors, top management, and investors of an organization utilize this data to make choices regarding the course of the business. The accuracy of revenue, wages, and inventories is so crucial.
Creating a Precise Budget
Inventory counts are also used by businesses to assess how much has been sold and how much stock is still available. When determining which things are the most popular, this might give helpful information regarding the inventory turnover rate or how frequently the item sells. As a result, this can assist businesses in developing a precise inventory budget. They may choose which items and how many of each to have on hand. To prepare for the upcoming year's purchases, a retail business can, for instance, do an inventory count on seasonal items.
6 Main Types of Physical Inventory Count Methods
The main types of physical inventory counting procedures include:
Point-of-Sale or Electronic Counting
Electronic counting scans and tracks goods digitally using specialized computer tracking software. For instance, many businesses utilize point-of-sale (POS) systems, which enable staff to scan things as consumers buy them. The application automatically subtracts the quantity from the inventory as soon as the buyer purchases the item, and the team monitors it through the POS system. The warehouse receiver adds new products to the system when the shop gets them using the same technology to increase stock.
POS systems frequently communicate with other types of software, such as enterprise resource planning, accounting, or merchandising software. The firm employees may, for instance, conduct a physical inventory count to ensure that the physical and digital numbers match. Although this technology helps to increase inventory accuracy, the associated fees might raise a company's costs. Employees have time to become familiar with the system and appropriately carry out the operations.
Manually Counting
Unlike automated counting, manual inventory counting involves staff members writing down the inventory results on paper. The management of a corporation can assign workers as necessary or have a dedicated employee or team perform physical inventory counts. To count, they can go about the shop, warehouse, or storage area to identify the things and add up the amounts using a spreadsheet or printout of the products.
By using this technique, a business might avoid paying for the initial expenditures of building an electronic system. It is also helpful in confirming POS system findings. It's crucial to remember that human inventory counting might produce a range of results based on the size of the business, the accuracy, and the care taken by the counters.
Periodic Counting
Periodic Counting or Cycle counting is a method of physical inventory counting in small increments over the course of a month or year. For instance, to assure accurate data, a retail shop would tally the most popular produce items each Monday morning. Fourth Tuesdays, the specialized section receives a similar treatment, and so on. The corporation will gain from this in a number of ways.
First of all, it enables the business to continue operating rather than shutting down to finish an entire physical inventory count. Additionally, since inventory is constantly counted and faults can be found promptly, it enables any inconsistencies to be resolved sooner. This is advantageous for quickly transporting goods or products that the business wishes to monitor. Many companies choose to perform a complete inventory count once a year and the regular cycle counts.
Complete Physical Counting
Companies frequently do a comprehensive physical inventory once a year. Organizations can utilize their own workers to count, engage temporary help, or pay an inventory counting agency to complete this task. Many organizations arrange shelves, storerooms, and warehouses before finishing a complete inventory to make sure that goods are located correctly and are simple to find.
Depending on how things go at the firm, the business may temporarily close or stay open on inventory day. Counters can be given inventory lists or spreadsheets by managers, along with instructions on how to record the number of things sold accurately. At the conclusion of physical inventory counting, all counters give in their sheets to the supervisors, who then compile the findings.
Spot Counting
Spot counting, arbitrary counting or ad-hoc counting is a type of physical inventory counting method that is frequently started by the user and is not planned, making it useful in unusual circumstances. Let's say you counted a zone, but a few days later, the system malfunctioned because of someone or some procedure. Instead of waiting for the next cycle count, you can construct a new, empty order and begin adding counted items to it.
Of course, your system must be able to compare the quantity that was tallied to the data stored in the program. Arbitrary counting is sometimes referred to as blind counting since it typically takes place in unplanned, tiny store/warehouse zones or locations.
Tag Counting
The personnel of the store or warehouse should physically tag each item prior to tag counting. The worker must complete the required slots on the tag with the item ID, counted amount, and other pertinent information during physical inventory counting. Some labels have two sides, allowing an additional worker to check the data and, if necessary, fill in the adjustment on the second side. These tags are gathered and added to the system as journals when the counting procedure is complete.
The primary distinction between tag counting and all other counting techniques is that tag counting does not involve a direct comparison to system data. As opposed to just producing a counting order and comparing it to the tag counting list, it is more like creating a rough draught list of your goods and quantities, refining it (e.g., updating with sales that have occurred during the counting), and then comparing it to the final list.
How to Conduct a Physical Inventory Count in 12 Easy Steps
A successful retail business is built on effective inventory management. Customers will always find what they're looking for in a well-stocked backroom, and your workers will always have what they need to do their jobs. In the best-case scenario, organized stock supports your everyday operations so that personnel may concentrate on customers. At worst, you're left with a logistical nightmare of missing items and lost sales.
Your staff will need to count meticulously, track, and process products on a regular basis to keep your inventory operating correctly. Are they driven to complete the assignment as inventory season approaches, or would they prefer to skulk off? The given steps for counting physical inventory can help you manage stress if you run a retail firm. Let's take a look:
Check the Date
It can be a big deal if you have to manually count your physical inventory every month, every three months, or at the conclusion of a reporting period. It may be necessary to take stock outside of regular business hours because it is a laborious operation. Give your team plenty of warning so they can plan accordingly around their commitments, and be sure to schedule workers correctly, so nobody takes on an opening shift. Post a sign in your store or on your social media accounts informing clients if you need to close your store during regular business hours. The secret is to plan.
Assign Your Counters
Physical inventory counting needs expertise. Before you allocate your counters, make the position a learning opportunity for both inexperienced and experienced workers by letting them train one another and providing checks and balances along the way. Make a written protocol and include information on how you'll establish a precise cut-off point for stock movement for an accurate count. Count teams typically consist of two individuals – one who counts and the other who records. To make sure that everyone will be accessible on the specified day and time, provide your team with their schedules as far in advance as you can.
Notify All Storage Facilities
Make sure to inform relevant third parties that they should likewise undertake a physical count of inventory on the given date, whether your organization has merchandise in outside storage or on consignment. To ensure that they are not counted, make careful to separate any recently acquired products. Deliveries to the warehouse should be delayed if at all feasible to prevent variations from occurring during the count. Before starting the count, you'll want everything to be free of clutter.
Examine Your Stock
A few days ahead of time, check your inventory to make sure everything is in order. Search for objects with missing or partial component numbers and those that are in a state that might complicate the procedure. Adjust your inventory as needed to make it ready for the physical count.
Make a Proper Warehouse Plan
Make sure your staff has a map of your floor, backroom, and storage so they know where to go when they need to. A map can let you allocate personnel to their stations more efficiently, whether you need to take photographs or sketch up a plan. Create a tracking sheet for each sector and assign a different number to each display, rack, and shelf. Visualizing your inventory area will reduce confusion and make it easier for your personnel to get started.
Make Your Own Category
You may count and group comparable objects together with the aid of categories. The categories for a retail setting may be footwear, tops, bottoms, outerwear, and accessories. Depending on your industry, these groups can be further divided based on color or gender. The counting procedure will be more smoothly executed if a systematic system is created. You'll run into certain things that don't have a designated spot in your store when you're arranging your physical count. It would be best if you made a decision on how to handle objects without a clear home. They can be transferred or returned from other places.
Start the Pre-Count
Make sure everything is tagged correctly and labeled before the count starts. After all the things have been tallied, failure to deal with stray objects can lead to problems and anger. Start early by counting some of the items. Put the objects that were counted in sealed boxes when the pre-count is done. The goods will need to be recounted if, on the day of the physical count, you discover broken seals on packets that have already been counted.
Set Frequent Reminders
Give your staff a review of what they learned in training before the big day. Walk your staff around the shop if you've relocated any stations or merchandise to prevent confusion. Distribute instructions that break down the counting procedure into simple stages. Despite the fact that there shouldn't be any things without labels or pricing, emphasize the significance of gathering such items in a specific location so they may be handled last.
Explain the Procedure
Lead by example and demonstrate to your staff the correct way to do a physical inventory count. Give them a sample of a completed form, then have them go over their initial try to ensure the form was filled out correctly. Assign the count teams to various areas of the shop using the map. To prevent double-counting, mark the regions on the map that have been counted.
Get Set and Go Counting
You may pair off your teams and start physical inventory counting now. The second person completes the count tag using the sample data below after the first person has finished counting:
Location
Item information
portion number
Quantity
Measurement unit
The team attaches the original count tag to the inventory item, keeps a copy, and turns the tags into the person in charge. The person in charge will verify that all titles have been completed entirely and none are missing.
Recheck Your Possessions
Perform spot checks in sections to see whether the items were appropriately counted. Take advantage of the chance to verify each section doubly if this stock audit finds a mistake. It will be worthwhile to double-check the counts that have previously been made. To assure the correctness of the inputs, a data entry team should additionally include two members.
Complete the Reporting
To add up your computations, record your physical inventory counts on a spreadsheet. Your inventory reports will enable you to find any discrepancies between the physical and book counts so that you can develop a strategy to eliminate them. To find potential patterns, compile physical count inventory records over a specified time period. Is there, for instance, a particular low-count spot in your store? Are there any procedures you might strengthen to prevent the loss of goods? Your business should be impacted by your reports and results in all areas, from financing to visual merchandising.
5 Benefits of Physical Stock Counting in 2023
To maintain accurate and up-to-date inventory records, physical inventory counts are a crucial component. Better sales and purchase estimates may be made thanks to correct inventory records, which also guarantee that you always have the proper quantity of stock on hand. Your consumers will benefit from having a physical inventory taken. Precise physical inventory counts are essential for the reasons listed below:
Provides an Accurate Insight Into Inventory Levels
You will have a far better knowledge of how much merchandise you will need to have on hand to satisfy consumer needs when you effectively manage your inventory. You won't have to worry about running out of supplies all the time, thanks to this. By being aware of your inventory levels, you may prevent clients from making orders for items that are not currently in stock. Without having to worry about keeping too many goods on hand, shortages will be less of an issue.
Improves Demand Predictions
An essential component of inventory management is demand forecasting. It occurs when you foresee a product's level of demand, the rate at which it will sell out, and the time at which that SKU has to be restocked. A physical inventory check can enhance buying and forecasting of inventories. For example, retailers that see demand forecasting reports that suggest which products to replenish based on their profitability and restock rate can do so in a way that allows them to do so based on both the popularity and profitability of the items.
Suggested Read: What is Inventory Forecasting?
Enhances Sell-Through Rate of Slow-Moving Inventory
An actual inventory count does more than avoid stockouts. Retailers also reduce the chance of keeping out-of-date stock at the total price for an extended period of time. Retailers should have access to inventory grading data that group items according to their cost per unit, selling price, number of sold units, and overall income over time. Merchants should proactively think about re-merchandising items in-store, advertising them to generate interest, or offering a special discount to encourage sales for those that aren't selling as intended. In order to recover your initial investment and create a place for more in-demand goods that either sell at a larger volume, have better profit, or both, it is helpful to move through failing inventory.
Reduces Inventory Shrinkage
Inventory loss is a frequent and annoying issue for merchants. When your actual stock is less than the amount listed in your inventory management software, this occurs. Theft by employees and shoplifting are the two main reasons for stock shrinkage. A weekly partial inventory count, for instance, can assist retailers in identifying discrepancies between a store's actual inventory and the inventory levels recorded in its point-of-sale system with a smaller sample size of inventory that is easier to count (one particular product category, for example), giving them enough time to determine what caused the shrinkage and reconcile it.
Prevents Overstocking and Understocking
Lack of physical inventory tracking can lead to carrying too much (or not enough) goods, which could lead to budgetary concerns if not maintained under control. Overstocking, often known as the gap between available inventory and demand, has resulted in markdowns totaling more than $300 billion. Discounting at scale leads to lost income because of lower-than-expected margins on each transaction, despite the fact that it has valuable use cases. You can allocate enough money to inventory to satisfy demand without overstocking or understocking by maintaining an accurate inventory ledger and using the information from your POS system to understand better how well-liked the products you carry are with customers.
7 Best Practices to Implement for Counting Physical Stock in 2023
Make a Map of Your Shop, Warehouse or Stockroom
Make a map of the locations where your inventory is kept, whether it be on your shop floor, in a stockroom, or in a warehouse, as part of your preparations. Label each product category's location and the person in charge of counting it on the map. This will aid store employees in getting their bearings and assist the manager you assigned to maintain track of who is in charge of what. Give each employee a list of the SKUs they will count in their assigned region as well. This may be a helpful tool when they scan product barcodes and enter their count into the POS system.
Use Box and Shelf Labels
Label shelves and boxes according to the things they hold and make sure the contents of each are located where they should be according to a map of your store. The shop map you made in the previous step should be reflected in these labels. Prior to the inventory count, it will be easier to stay organized and save time when it comes time to account for the miscellaneous things if boxes and shelves are proactively labeled and products are placed in their proper locations.
Clean the Locations Where You are Counting
Make sure there is enough space for employees to count large quantities of items in each location designated for stock-taking. Get rid of any boxes or inventory items that are unnecessary. Any freestanding furniture, such as mannequins or display cases, should be moved to one side.
Use Barcode Readers
While it is possible to hand count the objects, teams are more prone to make mistakes. For quicker and more accurate counting, choose barcode scanners. Store employees scan the barcode on the product's tag, and the inventory levels connected with that product's SKU are automatically entered into the POS system as opposed to each product having to be manually counted and recorded in a spreadsheet or on paper. Mis-counts are unlikely unless the store employee scans the exact same item twice. Barcode scanners are necessary for teams charged with counting enormous volumes of merchandise.
Set a Time When Counting Will Be Handy
Setting a deadline for your inventory count is worthwhile. Depending on how many things you carry, performing a physical count can take one business a whole day and another just a few. In either case, giving oneself too much time is preferable to not enough. Additionally, some retailers choose to conduct nighttime inventory counts, appointing a team of staff to enter the premises during off-hours. Just bear in mind that in many areas, paying employees more for midnight labor than for a shift during regular business hours is the norm.
Train and Inform Staff Members
Before beginning a comprehensive physical inventory count, take the time to teach and instruct your store personnel on how to perform it. To count inventory and record outcomes, every member of your team should be able to operate a barcode scanner and your POS system. Spend some time outlining the typical difficulties they may encounter. What happens if a tag is missing, a product is defective, or a label is mislabeled? To ensure that staff members know what to do in each instance, share the solution and the procedure you've put in place.
Utilize Technology for Physical Inventory Count
Pen and paper counting takes more time than electronic counting. It's simple to make a mistake when counting, leading to erroneous inventory data. Additionally, a physical stock count across many retail locations will generate more data that will require much more time to process and understand than if everything were recorded using inventory management software. Inventor management technology provides solutions to these issues. Inventory reconciliation is sped up, and merchants have a single source of truth for both their financials and inventory when they scan products since the point-of-sale system will automatically register inventory levels for that SKU.
Suggested Read: Supply Chain Forecasting
Conclusion: Improve Your Physical Inventory Counts With InventoryLogIQ
In conclusion, it is crucial to perform routine physical inventory counts even if you have an inventory management system in case-specific procedures are not operating as effectively as they should. Inventory counts assist you in reducing unexpected shortages and identifying which internal processes need to be changed to enhance your business operations as a whole. One of the top providers of inventory and data-collecting services is InventoryLogIQ.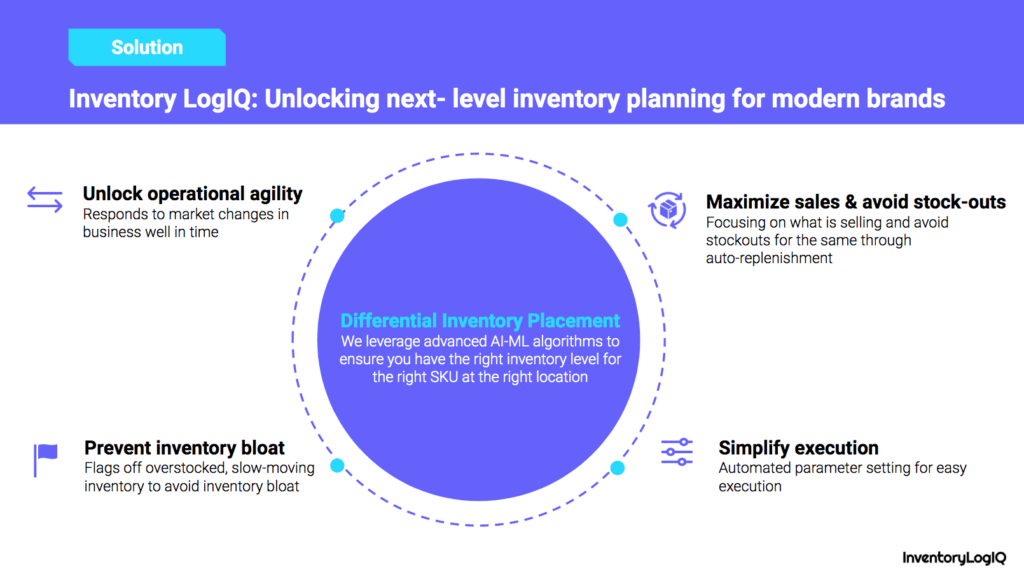 We offer physical inventory counting, merchandise planning and space optimization services to the majority of large retailers across the nation using our custom OMS and professional team. The integrated, one-handed inventory count terminal and warehouse management solutions are the technological advancements from which InventoryLogIQ continues to hold an excellent reputation in the market. This will not only handle your complete inventory but also make doing an inventory count simple by offering a section just for counting your inventory and notifying you right away if there are any shortages or exceeding stock.
Physical Stock: FAQs