Multichannel Inventory Management: A Detailed Guid...
Multichannel Inventory Management: A Detailed Guide to Successful Multichannel Inventory Management for eCommerce & D2C Sellers in 2023
Mismanagement of inventory costs businesses $1.75 trillion annually, and the probability of inventory errors only rises as organizations grow and sell through many channels. Brands must now use multiple retail and distribution channels to succeed in eCommerce fulfillment services. As a result, businesses must not only sell through various media but also navigate the challenges posed by the multichannel sales fulfillment model, such as tracking, managing, and delivering inventories. Inventory management may become extremely difficult rapidly, and your company may fail under strain if you don't have the framework and resources to acquire inventory and complete orders.
In a multichannel inventory management system, purchases and manufacturing orders further increase the difficulty of managing inventory and storage space. Because of this, inventory management software (IMS) has grown to be a crucial component of multichannel operations. This kind of software provides various functions, including inventory, shipping, warehousing, accounting, and vendor administration, all of which work together to stop missed sales and dissatisfied consumers. Today, firms selling on several channels and managing inventory across multiple warehouses need to use multichannel inventory management. Let's examine what it is and the problems it resolves.
What Is Multichannel Inventory Management?
Monitoring inventory from various sales channels and storage facilities is known as multichannel inventory management. This comprises stock for retail, wholesale, online markets, and eCommerce. Your business can effortlessly manage stock levels, reorders, and inventory forecasts using multichannel inventory management, allowing you to precisely predict inventory turnover ratio each quarter. Instead of wasting time and resources managing your inventory details, multichannel inventory management solutions let you concentrate on expanding your company.
A Practical Example Of Multichannel Inventory Management System
Let's say your business deals in fashion and apparel. One of your products is men's jeanswear that you sell online and offline. All client orders are placed through the online platform, and you've listed denim jeans for sale in your shop. This makes it simple to keep track of your outgoing inventory and ensure you only sell what you have on hand. But when business picks up, you start searching for ways to grow and connect with other prospective clients who use different platforms for shopping.
Because you created shops on Flipkart and Amazon, keeping track of stock levels is considerably more challenging because orders are now being placed on three distinct platforms. For instance, if you have 100 blue denim jeans ready to sell, you might set your inventory to 100 on all your sales channels. You now face the chance of overselling, in any case. For instance, you might end up selling 20 denim jeans that you haven't even created yet. Suppose you sell 70 pieces of denim of the inventory you have on hand on Myntra and 50 on Amazon the same day before. In that case, you can update the inventory counts on each site.
Therefore, maintaining an accurate product count today is practically impossible without a centralized, automated system for inventory management. You could certainly give it a go. However, you now face the risk of upsetting clients when they place an order for an item only to have it delayed or even cancelled because there is no inventory on hand. Additionally, you'll need to acquire warehouse space and potentially even a business to manage your eCommerce fulfillment if your production increases and you need a place to store items and complete orders more quickly.
Sending inventory to numerous sites is required, and you are no longer the sole person in charge of adequately wrapping and shipping each of your goods. Incorrect stock may harm sales, fulfillment processes, and your reputation, so providers won't want to cooperate with you. Your entire organization may fail if you can't keep it in check. Currently, 55% of eCommerce companies handle inventory manually, frequently using spreadsheets or pen and paper. But there are a few drawbacks to this approach.
For starters, manually controlling inventories takes time. In addition, you'll waste time and resources tracking every transaction on every eCommerce platform rather than concentrating on growing your business. Thus there is an opportunity cost involved. It is also simple to make mistakes due to the lack of visibility across sales channels and warehouses, which results in overstocking and overselling. Additionally, it is more challenging to manage and obtain data to make informed judgments, making it more difficult to expand your firm. Multichannel inventory management is the answer. Let's examine how it will help your business and why it works.
8 Common Challenges In Multichannel Inventory Management in 2023
Making a significant influence on online markets like Amazon and Walmart requires using the appropriate technologies. However, there are still some potential problems faced during multichannel selling. This is because various sales channels expose organizations to multiple hazards, and depending on inadequate solutions will probably get you into trouble. The following are some of the most typical problems multichannel eCommerce businesses encounter:
Multichannel Inventory Management Becomes Challenging
Planning your inventory is crucial if you sell through numerous channels. It might be challenging to predict how much inventory you'll need for each channel and when you'll need it. Overstock, and you'll have too much stock for a month. You risk running out of merchandise if you understock when you need it most. The impact of overselling on client satisfaction can be significant.
Directing your goods to the most effective warehouse reduces expenses and expedites delivery. A consumer at your physical store with an empty shopping cart and a credit card in hand is of little value to you if you have high inventory levels in a warehouse for your online business.
Processes for Fulfilling Orders Gets Complicated
When you were starting out and only selling on one channel, checking SKUs off on spreadsheets, printing individual shipping labels, and straightforward manual picking and packaging certainly sufficed. But now, since you're on several channels, everything is much more difficult. The number of orders that need to be completed increases, and so does the complexity of the order fulfillment workflows.
Since you could apply various fulfillment strategies for multiple channels and move inventory between warehouses, the appropriate software may simplify the process by enabling you to process orders in a single location and in real-time, update order statuses automatically, and, most significantly, automate the multichannel order fulfillment procedures specific to your company.
Excessive Stock Gets Accumulated
Too much inventory is a resource drain that might prevent future investment since unsold inventory results in increased storage costs and insurance rates. This increased overhead will result in a cash flow restriction, which is never the intention. You can read more about excess inventory here.
Inefficient Management Of Warehouse Space
Your finances and overall storage space are impacted when the incorrect items are stocked in many warehouses. It is tougher to restock things selling well with less space you have to fill. In addition, the insufficient room makes it much harder to satisfy customer needs, which leads to dissatisfied customers who could stop patronizing your establishment again. Additionally, you must pay holding charges for storing the unsold merchandise, which reduces your overall profitability.
Overselling Various Items
When a company sells through several channels, they frequently discover that there is a chance that they may accept payments for goods that are not yet in stock. As a result, overselling can make consumers dissatisfied. Cancelling an order may harm their experience, hurt your reputation, and raise the likelihood that they won't shop at your online business again.
Erroneous Forecasting is Used
Insufficient data has a cascading impact. Additionally, because business is constantly changing in eCommerce, it is incredibly challenging to reverse course once inventory planning goes awry. It doesn't help that, according to a Zentail poll, 54% of sellers still don't use forecasting tools and instead try to compute shifting objectives manually. In addition, the same merchants frequently use a conventional forecasting methodology of 30, 60, or 90 days. As a result, they lack unified, real-time data to identify new purchasing patterns and instantly reorder (or reduce) product quantities.
High Rate Of Order Defects
Order cancellations, wrong shipments, delivery exceptions, or late deliveries might result from an absence of inventory control. Your selling performance will suffer if they get out of hand. An ODR over 1% on Amazon is grounds for suspension. The cutoff is 2 per cent on eBay and Walmart. Beyond understocking and insufficient data, an inventory storage system that doesn't connect your various facilities might sabotage your productivity.
Inaccurate Performance Insights
The most valuable player of any eCommerce organization is data. Unfortunately, having a selling presence across various platforms might leave you with a mountain of dispersed and disorganized data. That's before you factor in additional difficulties like dropshipping or Amazon FBA. Identifying your organization's areas where you should spend more time and energy might be challenging. You won't be able to see clearly how the demand is shifting or what's doing well.
6 Benefits of Having Multichannel Inventory Management
Not only does a system that updates inventory automatically across platforms for sales and warehouses keep you organized and spare you the hassle of making manual modifications. Multichannel inventory management immediately benefits your businesses bottom line in several different ways. Some of them are listed below:
Reduces Overselling and Overstocking
When your inventory is off, you can sell products you don't have in stock. This can cause delays in order fulfillment, irate customers, and even lost revenues if you have to issue a refund and the buyer goes shopping somewhere else. Deadstock or overstocking of some products can also occur from not having a solid grip on inventory or customer demand for particular products.
With contemporary software solutions, multichannel inventory management streamlines this procedure. Each sale of items made anywhere will draw from the same inventory if you have a central database. Thus you can always be sure that your inventory is accurate.
Improves Visibility
The merchandise availability across all sales channels and warehouses can be quickly seen and evaluated by sellers using a multichannel inventory management system. The impact of sales on inventory is also visible to sellers in real-time. You can thus check inventory at any time to know quickly what goods are available, which ones you need to refill, and which products are selling where – and you can do it all in real-time.
Provides Insights
Without data, no eCommerce company can grow and prosper. As an eCommerce merchant, you must know what products are in demand, which aren't moving, and how your inventory varies with seasons, trends, and sales to optimize your inventory and order fulfillment. This enables you to anticipate demand and plan for special occasions. Suppose you're planning for Christmas Day, for instance. In that case, you may consider what products you'll need to resupply before the event and then use historical sales data to forecast which things will sell quickly and make the necessary preparations.
Using data and insights to influence your decisions, you may also rapidly take advantage of fresh possibilities. For instance, you can find that a specific pair of denim jeans isn't selling well and decide to give a one-day flash sale to persuade people to buy. Or, you can discover that sales of a specific product vastly outpace those elsewhere and opt to keep it solely in a local warehouse. You may streamline your business and concentrate on the most lucrative platforms by eliminating the selling channels that aren't doing as well.
Improves Customer Experience
It would be best if you offered the same high standard of service regardless of whether a consumer decides to purchase your product—on your website, Myntra, or anyplace else. Whether you conduct business online or in person, you need a multichannel inventory management system that offers real-time visibility. When a buyer visits your online store to buy a pair of medium denim pants, they are out of stock. To find the item, the consumer might travel to other shop locations or check online to see whether the trousers are in stock.
However, a multichannel inventory management solution makes it simple for customers to ask a staff member to verify the inventory at different shop locations. Finding whether local businesses have the item in stock so the consumer can pick it up the same day or have the trousers sent right to their house will take a second. When an inventory management system is in place, it eliminates the need to search across many retailers for a pair of trousers.
Expedites Delivery
Regardless of your location, a multichannel inventory management system enables your company to handle inventories worldwide. As a result, shipping times will be quicker, and merchandise may be located closer to clients. With capabilities like route-optimization and last-mile delivery, multichannel inventory management software helps your company further enhance the fulfillment process and ensure that orders are delivered efficiently, precisely, and economically.
Enables To Rapid Business Expansion
You may scale your business in various ways, such as adding more items, expanding your distribution channels, partnering with more suppliers and manufacturers, and keeping inventory in multiple warehouses. Additionally, growing in any of these methods becomes more challenging if inventory needs to be manually tracked. By implementing multichannel inventory management to enhance the delivery process, you can also increase the productivity of your business.
In addition, numerous software capabilities, such as automatic planning, route adjustment and order monitoring, analytics, and more, may completely transform your company. In addition to guaranteeing quick, correct delivery for your clients, doing this will free up your time to concentrate on the essential aspects of running your company: developing, promoting, and selling high-quality items.
8 Key Features Of Ideal Multichannel Inventory Management
To have an impeccable multichannel inventory management system, look out for the key features mentioned below:
Native Integrations
Without extra third-party connectors, every multichannel management system is worth being competent. In addition, it should be able to connect to every eCommerce channel you use. By taking third-party integrations out of the picture, disconnections will decrease. A seamless connection guarantees a smooth workflow. Additionally, you often receive better and quicker assistance with native integrations built and managed in-house without an intermediary.
Integrations for eCommerce can help speed up the payment procedure. For instance, businesses that accept payments through various payment gateways would want an order management system with robust integration capabilities. By doing so, businesses may control payments and refunds without ever leaving their main system.
Flexible Alternatives For Order Fulfillment
Flexible order fulfillment solutions are necessary if you want to deliver orders to customers as quickly and affordably as possible. Based on your procedures, a multichannel order management system should be able to automate multichannel order fulfillment. For instance, based on the channel the order came from and the location of the delivery address, it should be possible to choose the fulfillment strategy or warehouse automatically.
Inventory Management At Multiple locations
When it comes to inventory management, a multichannel order management system excels. You will be able to view all your inventory in one seamlessly connected location, as opposed to having to view it individually for each eCommerce channel or manually combine it with other goods into a basic inventory management system. For order fulfillment, the inventory may be sent to warehouses with stock available using multichannel inventory management software, saving you the time required for manual rerouting. They can even start backorders or buy orders with suppliers to restock stock levels in the future.
Point of Sale Integration
Do you ever wish that the inventory you sell through your eCommerce channels and the merchandise you trade in your physical shop could be promptly reconciled? That is possible with multichannel order management systems with integrated POS. This is extremely helpful if you give your clients a choice to buy online and pick up in person or to click and collect.
Planning Inventory Levels Using Data
When you use a multichannel order management system with integrated inventory planning, you can access all your data from every channel at your fingertips. As a result, you can predict which things to sell when and through which channels. A data-driven inventory planning system can improve your inventory management using useful inventory management KPIs, enabling an effective data-driven growth strategy.
Process Automations
The world is evolving due to automation. Nowhere is this truer than in the eCommerce fulfillment industries. Workflow automation may be scaled to your company's demands, taking over the time-consuming tasks so you can focus on the things that require human interaction. To build a seamless omnichannel customer experience, you may control the process automation across all of your various sales channels. Your order management software's incorporation of workflow automation will hasten order processing, reduce human error, and ensure quick delivery and order correctness to your consumers.
Business Reporting and Intelligence
You don't want to waste time while making decisions for your company. You want to have access to all the information you require immediately. A multichannel selling management system must feature simple yet capable reporting that can gather information from your sales channels and provide you with in-the-moment business insights.
Additionally, you should consider using retail business intelligence, which will give a comprehensive account of your company's performance, if you want to gain more in-depth insights into your channels, goods, and customers. Consequently, you will have all the information necessary to make data-driven decisions.
Accounting Purchases
Post-purchase analytics are crucial for running your company. The ideal order management system should make them as simple as feasible. To transfer real-time data into your preferred retail accounting software, look for an order management system that offers inventory transfer, demand, warehousing, and buying information. You'll be able to make wiser business decisions if you have access to your financial data from several sources on a single platform.
7 Factors To Look For In Multichannel Inventory Management Software in 2023
The most excellent and dependable multichannel inventory software may be found by considering several options. First, you must thoroughly understand your unique business requirements, the size of your company, and the number of warehouses you have to select the appropriate software. In a multichannel environment, inventory management may be challenging. You must know the particular integrations and capabilities needed to sell and restock your items, which vary from business to business. Redundancies and workflow disruptions can be avoided by choosing the appropriate tool combination. So that you can select and incorporate the ideal software choice for your inventory management, there are a few things to consider. These consist of:
Controlling Inventory and Predicting
Inventory control and forecasting should be considered when limiting your software selections since they serve as the foundation of your inventory management. Therefore, it's to your best advantage to pay special attention to the following before committing to a specific system:
Flexibility in Stock Keeping Units (SKU)
The finest software enables autonomous tracking of bundles and kits and individual goods, key components, and product variants. This SKU flexibility enables instant access to your product data, aids in tracking your inventory across all channels for timely replenishment, and allows you to keep track of your best-selling goods.
Forecasting
One of the most critical factors in inventory forecasting is the sales history of a product. To be able to look back on it or use it in calculations for inventory planning, your programme should capture and preserve sales data for years. This is now more crucial than ever as COVID speeds up the adoption of eCommerce. In addition, accurate inventory and supply chain forecasting puts brands and marketplace vendors in a better position to benefit from the profits.
Data from Every Channel
The key to more efficient inventory management is to gather data from all your sales channels to create a single repository for your sales data, fulfillment data, and supply chain automation processes. In addition, to acquire a comprehensive understanding of product performance and operational profitability on a per-SKU, per-channel basis, you should ideally be able to combine the data from each sales channel.
Scanning and Barcoding
For larger companies with multiple warehouses and fluctuating inventory levels, this is one of the most crucial factors because barcoding and scanning make it much simpler to collect real-time data from your various warehouse locations and guarantee you're working with real-time, accurate stock data. If you use barcoding technology, it will be an essential part of managing your multichannel software.
However, Barcode systems cannot be integrated with every multichannel inventory management software. Therefore, verify that your entire toolkit will function as a unit and that your operations software is compatible with your barcode accessories. Another option is to utilize a mobile device to scan stock using an app like Barcodes or Scout.
Analytics
The usefulness and efficiency of the tool will also be influenced by the inventory analytics you have access to in your programme. It is crucial to prioritize in-depth access to the data you want and to conduct research on the reports the programme offers. To make the necessary modifications or adjustments as your firm continues to sell, ensure the business information you get is actionable and quantifiable.
Configurability and Customization
It's not always simple to customize inventory management system. However, as no two organizations run similarly, customization and configurability are crucial components. Implementation will be more straightforward the more you can personalize and customize your multichannel software. Choose products with a robust App Store or integrations directory.
Suggested Read: What is a Periodic Inventory System?
Conclusion: How InventoryLogIQ Can Help With Multichannel Inventory Management in 2023
Software for multichannel inventory management is necessary for any company that wants to run smoothly and efficiently. As a result, companies of all sizes enjoy the most effective inventory management system that enhances customer satisfaction and facilitates a seamless customer experience while balancing the budgetary constraints associated with everyday operations. It would be best if you had a robust multichannel inventory management strategy to prevent overstocking and stock-outs and guarantee that customers receive what they request. Then, your eCommerce firm can quickly profit from using the proper software.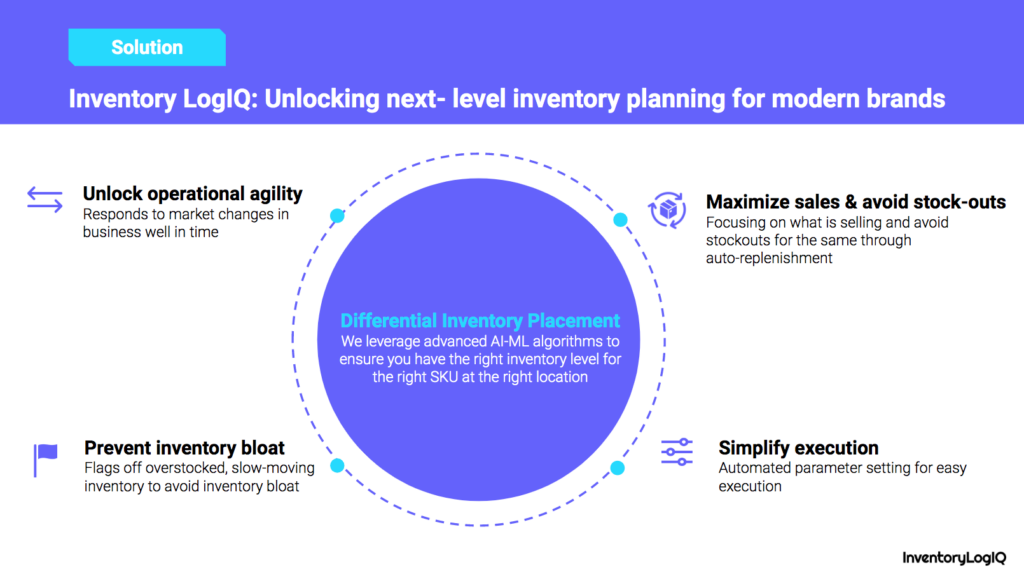 For experienced merchants, InventoryLogIQ's integration offers a powerful multichannel inventory management solution. Our services ensure that your listings reflect the correct numbers and that your product data is accurate. At the same time, we can also quickly and affordably store and manage your inventory across your marketplaces and fulfillment centers. By collaborating with InventoryLogIQ, you can exceed customer expectations, prevent mishaps and reduce forecasting glitches from depressing your sales.
Suggested Read: ERP Inventory Management System: When Your Business Requires an ERP Inventory System [2023]?
Multichannel Inventory Management: FAQs