What is Stock Replenishment? Importance, Factors T...
What is Stock Replenishment? Importance, Factors That Affect Inventory Replenishment and Best Practices in 2023
Every person involved in eCommerce retail understands how important it is to have the proper amount of merchandise on hand at the right moment. When a business has too much inventory, it runs the danger of items with a short shelf life becoming obsolete or being trapped with unmoving merchandise for an extended period of time.
Conversely, when a business has too little inventory, it runs the risk of stock shortages and not being able to fulfill customer orders. Customers may be lost or dissatisfied as a result of either of these situations. In this blog, we will delve into the meaning of stock replenishment, its importance of it, the factors that affect it, the different methods, and the best practices of inventory replenishment.
What is Stock Replenishment?
The rate at which inventory moves from the manufacturer to the supplier for the activities of storage, picking, packing, and order fulfillment, is referred to as stock replenishment, also called inventory replenishment or replenishment planning. By maintaining efficient order and line-item fill rates, stock replenishment aims to keep inventory moving through the supply chain at an optimum pace. Some noteworthy points about stock replenishment are listed below:
This method prevents inventory overstocking, which can be expensive.
The objective of a business should always be to keep goods flowing through the supply chain at a cost that is as low as feasible without compromising the customer experience, with raw materials and finished items reordered at the precise moment to ensure optimal inventory flow.
Stock replenishment is the method through which businesses attempt to attain that objective, which is frequently aided by inventory management software that automates inventory replenishment procedures.
Managing the rate of stock replenishment has typically been difficult since it previously required manually tracking each item of inventory as it travelled through the supply chain using spreadsheets.
Sophisticated inventory management systems that monitor and update stock movements without the need for user intervention make automated stock replenishment feasible today.
This saves time and eliminates the possibility of human errors.
How it Works
Stock replenishment works in the following way:
A team or set of teams will be assembled to supervise the movement of inventory, depending on the structure of the firm.
These teams are often made up of warehouse managers and planners who ensure that the firm always has adequate stock to fulfill orders.
These groups can be divided into a range of specializations, with some focused-on inventory ordering methods as the firm develops and changes, and others dealing with the short-term goal of tracking inventory counts.
When the counts reach the pre-determined re-order mark, the selected team will contact the necessary supply chain parties to restock the products.
This happens with both ready-to-sell inventory and raw materials.
Importance of Inventory Replenishment in 2023
Businesses need a robust inventory replenishment plan because it may help them avoid costly supply chain issues like inventory stockouts and overstocks. Stockouts not only result in lost revenue but may also have a significant impact on consumer loyalty and trust in a company. They can also compromise your brand security by allowing competing brands to intrude on any available disillusionment of consumers. Some of the important aspects of inventory replenishment are listed below:
Helps Prevent Understocking
Understocking occurs when a merchant fails to restock inventory at the appropriate moment, resulting in a shortage of items at the time of purchase. It may also result in backorders, which indicates that an order has a set date for when the item will be ready for delivery. Dealing with understocking and backorders can be quite aggravating for your consumers. The easiest strategy to minimize frequent understocking difficulties is to keep safety stock, backup inventory, or emergency inventory on hand at all times. This is also a good idea in case a supply chain issue arises unexpectedly (which was experienced by many merchants during the COVID-19 pandemic).
Helps Prevent Overstocking
Overstocking occurs when there is a surplus of inventory in relation to the demand for it. Overstocking can have consequences such as increased storage costs, increased operational costs, and the risk of inventory becoming obsolete. Proper replenishment planning can be done to forecast the demand for future time periods and how much supply would be needed to satisfy it. This will enable firms to keep just the right amount of inventory on hand at all times and avoid overstocking situations.
Helps Reduce Operational and Logistical Costs
Suppose a consumer places a large order with you. If one item is out of stock at the customer's nearest warehouse but is available at another, you'll need to send a split shipment (sending multiple goods from one order in separate shipments, frequently from a different location or at a later date) to complete the customer's order.
Sending products from a single purchase in many shipments raises shipping costs, increases packaging waste, and may mislead customers. Based on past data and forecasting techniques, you can estimate demand and determine how much inventory to hold at the SKU level at each warehouse site. This will help you in decreasing the operational and logistical costs involved in shipping from different locations and the need to do it in the first place.
Suggested Read: What are Inventory Costs?
3 Factors That Affect Stock Replenishment
Fluctuating Forecasts
As all forecasts are based on unverified demand, the figures are certain to change significantly depending on the changing demand of clients. In a different instance, if one of your suppliers went out of business and your organization couldn't get equivalent raw materials in time to keep manufacturing running, prior forecasting could've helped you to prepare for the situation and have a backup, but since it is related to an external manufacturer, it may not have shown up in the forecast anyway. Thus, forecasting needs to be done as accurately as possible, covering as many variables as you can in order to offset unpredictable circumstances.
Lack of Optimization
Warehouse managers and planners frequently disagree over how to best utilize warehouse space. A planner, for example, would want to set aside a certain amount of space for the storage of excess inventory or raw materials. The agreed-upon inventory replenishment strategy cannot be effectively used if the warehouse manager is unable to supply the requested space. This back and forth in different departments can lead to a lack of optimization of multiple processes, which has a direct impact on a company's ability to replenish planning and manage inventory.
Poor End-to-End Visibility
When it comes to supply chain efficiency, end-to-end visibility is the name of the game. When you don't supply your manufacturers with reliable, real-time information about your current stock levels, the replenishment process might get delayed. Employing solutions especially built for inventory management and retail execution to encourage better communication between the field and the back office is one strategy to improve overall visibility. Utilizing technology to streamline the process of tracking your data in real-time provides your brand with an invaluable advantage over competitors who are still using generic tools to get things done.
3 Methods of Stock Replenishment
Depending on their company strategy, monthly order volume, and nature of items for sale, different eCommerce merchants use various replenishment planning techniques. If your current replenishment plan isn't working, try one of these three successful inventory replenishment approaches:
Reorder Point Method
To automate activities, most inventory management systems follow replenishment principles.
When inventory levels reach the reorder point, replenishment is usually initiated.
The reorder point is when stock has to be reordered, taking into consideration current and future demand as well as the time it will take your supplier to give you the new order.
There are three stages to manually calculating your reorder point:

Calculate the number of days you'll need to meet your lead time requirements.
Calculate the number of days in your safety supply.
Add your lead time demand and your safety stock to establish your reorder point.

You may also use a reorder point calculator to make your life easier. It'll alert you when it's time to order a fresh batch of merchandise inventory.
Top-Off Method
When you have a lot of fast-moving SKUs in your inventory, the top-off approach is usually the best option.
Under this method, inventory levels for a certain product are "topped off" in their corresponding storage facilities during periods of slower demand or downtime, allowing you to have a high inventory turnover rate without running into stockouts situations.
During sluggish demand periods, the goods are always replenished at the forward pickup sites, which enhances efficiency during peak periods.
Periodic Method
Inventory is refilled at regular periods using the periodic inventory replenishment technique.
Inventory levels are only evaluated at certain periods or dates, regardless of how low stock levels may have fallen before that. This strategy is primarily employed in warehouses with a lot of storage space.
Inventory is refilled at pre-determined periods through the use of the periodic inventory replenishment method.
This strategy is perfect for replenishing warehouse inventory. Warehouses can keep products that will last between 3 to 6 months because it has a large storage capacity.
As a result, for products held in warehouses, a periodic check/review is adequate and the inventory levels of these items are examined to determine whether they require restocking. There is no need to replenish products if inventory levels are sufficient.
6 Best Practices of Inventory Replenishment in 2023
There are a few things you should consider doing on a daily basis to ensure that you have the necessary inventory/stock on hand whenever you need it. Follow these best practices to ensure that your organization can always refill its inventory as needed:
Evaluate Your Forecasts on a Regular Basis
Involve everyone in this discussion, from your planners to your salespeople, warehouse managers, suppliers, long-term clientele, and others. Ask your colleagues to have their own estimates ready before the meeting and compare them to the factors that influence your company's replenishment plan. In the meeting, devise a reasonable plan to implement if and when your current replenishment technique and prediction are not up to the mark. Accurate inventory forecasting is one of the pillars of strong replenishment planning.
Create Stocking Level Techniques That are Successful and Efficient
Planning of stocking levels differ based on the size and specialization of the company. Therefore, your plan should be tailored to your business' inventory and supply chain demands. If you are starting afresh with your strategy, make sure that everyone involved, especially your long-term clients and suppliers, is aware of your most stringent goals. After that, you can discuss your stocking-level tactics in terms of hard data.
Suggested Read:
Make the Necessary Technological Changes
Your supply chain will be optimized if you have the correct eCommerce software system in place. Installing inventory management software, for example, is a simple approach to gaining real-time visibility into inventory levels across several locations, allowing you to make smarter inventory replenishment decisions. You can simply keep track of inventory control, track inventory trends and avoid frequent stock difficulties by employing inventory automation solutions for inventory optimization.
Make Effective Use of Replenishment Data
It is not surprising to learn that leveraging data helps you make better, more educated decisions and is one of the most effective strategies to optimize your stock replenishment strategy. Data from your retail outlets' point of sale may be a good predictor of how your replenishment process will go. Each of your accounts is unique and efficiently managing the data from each will assist you in keeping them all filled to the adequate level.
Improve End-to-End Visibility
Make sure your whole supply chain is aware of your shifting stock levels. Make room in the system for extra information about your fleet's shipment schedules. As you can see, many of the issues in replenishing are centred around a lack of communication, ineffective management, and inaccurate forecasting. Keep your numbers flexible and realistic so that your organization never needs to cope with a shortage or surplus of inventory and make sure that every team has access to all the information that they need.
Improve Inventory Management Techniques
The role of stock replenishment is only one part of the overall inventory management process. It will be difficult to decide when it is time to restock inventory without a suitable inventory management plan in place. Inventory audits on a regular basis, standard warehouse receiving processes and efficient eCommerce warehousing practices may all help you keep track of inventory more efficiently. To avoid large decreases in profit margins, warehouse expenses such as personnel, storage, inventory shrinkage, and depreciation, inventory should be continuously monitored and demand levels should be estimated.
Conclusion: Automate Your Stock Replenishment With InventoryLogIQ
The stock replenishment process is vital to every company that sells items to clients, whether it is done on a regular basis or on demand. Stock replenishment is more than just a procedure; it may also assist merchants in forecasting demand and supply more accurately by providing a comprehensive view of a company's worldwide inventory and demand levels.
Performance at the SKU/site level is automatically assessed and optimal stock levels may be increased or lowered as needed, allowing for more full-price goods to be sold. Prior to a certain action, such as a promotional event, changes in future stock levels can also be forecasted and structurally described. From manufacturing to marketing, stock replenishment has the power to impact every part of an organization. As a result, it's critical to always look for methods to improve your replenishment planning procedures. One way to do this is to partner with an inventory management solution like InventoryLogIQ.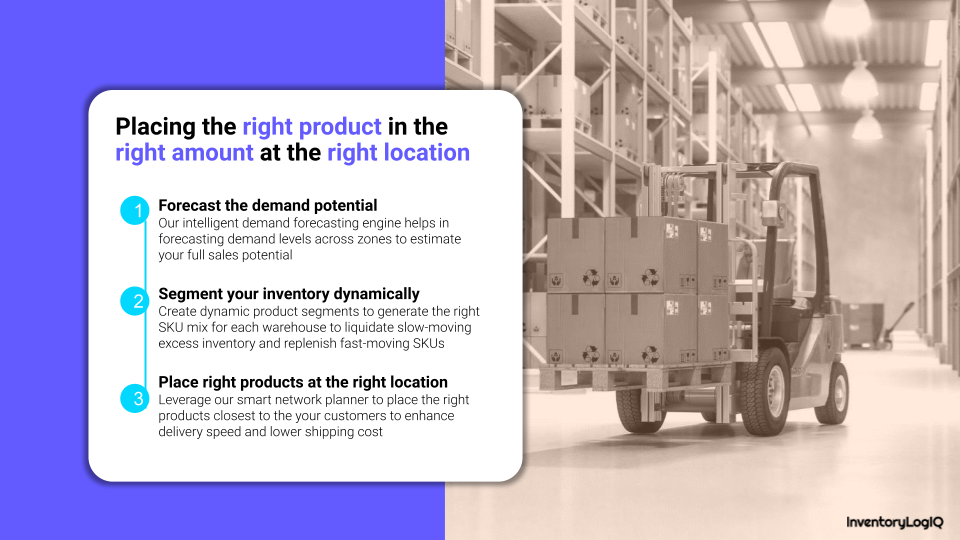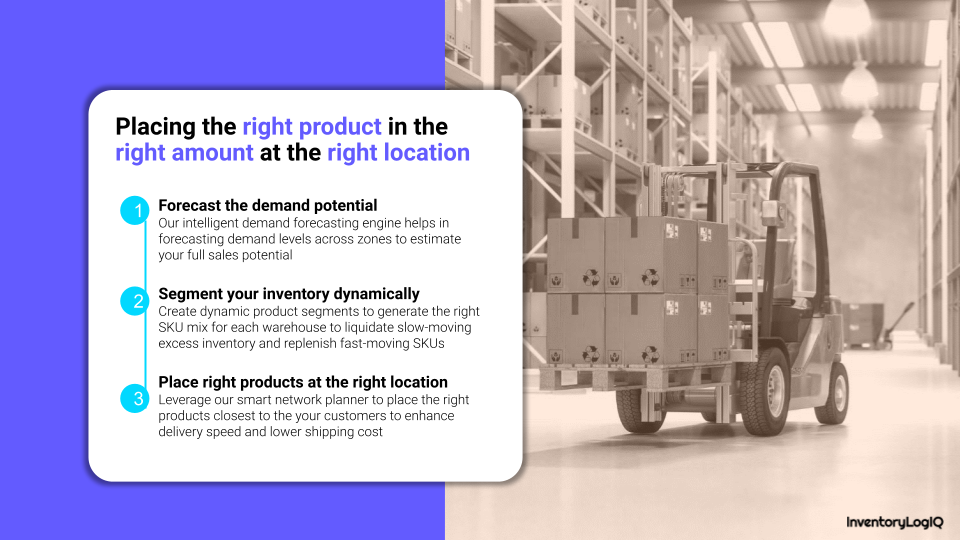 InventoryLogIQ is a leading inventory management solution with an emphasis on using advanced technology. We enable customers to make use of our advanced OMS which can track inventory levels across multiple selling platforms and fulfillment centers and enables the automation of multiple inventory management processes, including stock replenishment. Users can take advantage of features such as automatic low-stock warning alerts, inventory replenishment notifications and much more.
Suggested Read: What is Retail Replenishment
Stock Replenishment: FAQs